Olivia Munn's 3-Piece Suit Is On Sale
Emma McIntyre/Getty Images Entertainment/Getty Images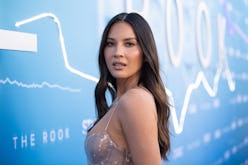 This X-Men superheroine just worked an item of clothing traditionally worn by men and the occasional female caterer into her wardrobe. A waistcoat is one thing your closet is probably missing, but it was an integral piece in the checked three-piece suit Olivia Munn just wore. So, you can go ahead and stop looking for the perfect spring set now because it's all right here (and on sale).
On Thurs., the actor posted an Instagram photo of herself looking like an absolute girl boss in the smartest plaid separates, which is so appropriate because she geotagged a new female-focused coworking space in Los Angeles called The Wing.
She must have been feeling the girl power, too, because she dressed for her workday in one thing you don't often see women wearing (although Munn is proof they probably should): a waistcoat layered under her suit.
The three-piece linen set, adorned with a gray and coral Prince of Wales check print, was actually designed by Munn's friend, Zendaya, as part of her collaboration with Tommy Hilfiger. Featuring wide-leg trousers, a longline, super-structured blazer, and matching vest, it's basically the winter separates you were obsessed with reimagined for spring. The actor accessorized it with a beige tote by Christian Louboutin.
The TOMMYXZENDAYA collection features all sorts of worthy outfits for your work wardrobe — satin wrap dresses, oxford shirts, and more sets — as well as plenty of beach-ready striped tanks, slip minis, and swimwear. If you think a pantsuit might be too warm for the season, then you'll be glad to know they come with shorts, too.
Everything you need is on sale for up to 50 percent off, so act quick because this springy suit is just what your office rotation has been missing. Munn's and similar alternatives, ahead.
Shop The Look