NYX Professional Makeup's New Concealer Includes This Beginner-Friendly Feature
NYX Professional Makeup/Instagram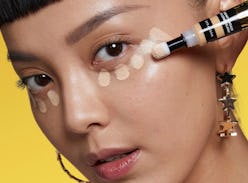 On its best days, applying concealer still isn't the most glamorous step in anyone's makeup routine. And on its worst — simply put, it can be a time-extensive, crease-wrangling hassle. You can tell NYX Professional Makeup's new Born to Glow Radiant Concealer understands this. The immensely popular drugstore brand's recently launched concealer is practically engineered to help speed up your makeup routine: At just $9 per tube, the Born to Glow Radiant Concealer comes with a built-in "puff" applicator, attached right onto its tip.
This may seem like a small addition, but it forces you to rethink how you're applying the complexion product, and if your chosen technique is really right for you. Rather than relying strictly on the standard triangle concealer method, the soft, circular brush invites you to dot on targeted spots — then blend them together using a sponge, brush, or just your fingertips. The concealer formula flows smoothly through the brush tip; all you have to do is squeeze the tube. "Our fave thing about our #BornToGlow Radiant Concealer? The no-fuss, puff applicator that makes brightening & concealing a breeze," noted the brand on its official Instagram account.
Better yet, the 24 concealer shades were created to complement NYX's Born to Glow Naturally Radiant Foundation, which dropped late last year. Although the new selection isn't the exact same — the foundation collection debuted with 45 shades — the concealer mimics the original formula's natural and glowy finish, offering buildable, medium coverage. (Keep in mind its versatility, too: You can use the concealer as a highlighter or as contour, depending on which shade you purchase.)
As fans of the brand may be able to tell you, this new launch is just the latest step in NYX's Born to Glow collection, which includes highlighters, primers, and more. And like all of NYX's other products, the new Born to Glow concealer is PETA-certified cruelty free — plus, it specifically features a vegan formula without animal-derived ingredients or by-products.
To shop the entire NYX Born to Glow line, you can visit the brand's website or swing by select retailers like Ulta. Below, the new Born to Glow Radiant Concealer.