Nordstrom's Half-Yearly Sale Is Full Of Good Investment Bags (& They're Majorly Marked Down)
Nordstrom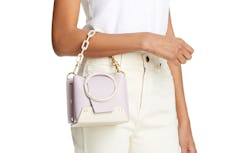 It's that time of year again — Nordstrom's Half-Yearly Sale has returned for yet another round. With a virtually endless amount of items to shop, there's no doubt you'll find plenty of things to add into your closet for summer. But along with those seasonal staples are classic investment pieces worth having year-round, such as timeless handbags. And when you have the option to get them at a price that's been majorly marked down, you can't ignore it.
In all honesty, an investment bag can be a tricky (but necessary) thing to shop for. Not only do you want a stylish piece that'll withstand the test of time, but you also have to consider the practicality of it. After all — if they aren't part of the micro bag trend — it'll be holding your everyday essentials. However, your search is about to get easier. From now until June 2, Nordstrom's Half-Yearly Sale is giving you up to 50 percent off on a ton of its items — including your next favorite purse.
From classic leather totes to the latest It bags, you can count on Nordstrom to have the coolest styles to put the finishing touch on all your outfits. And with this pre-summer sale in mind, there isn't a better time to get them.
For those who are searching for a classic, minimalist bag, the Margot Leather & Genuine Shearling Tote Bag from Danse Lente is perfect for your everyday affairs. Available for $335.98, this structured tote is just the right size for carrying everything you need for a day of errands. Another great option is the $1,738.65 Saint Laurent Nan Quilted Leather Frame Bag, which feels modern with an old school touch.
Want to update your collection with a fashion girl-approved style? The Delila Mini Bucket Bag from Yuzefi, $391.98, is a cool design that'll grab anyone's attention. And in this pretty lilac shade, it's perfect for the warmer months. Of course, sometimes you just want something that's simply jaw-dropping. In which case, you can't go wrong with one of Paco Rabanne's handbags. The Iconic Shoulder Bag, which costs $844.98, is a surprisingly versatile option that will easily be the hero of your ensembles.
Now that you've gotten a head start on shopping, scroll down to see more bags from Nordstrom's Half-Yearly Sale below.