A Bunch Of Cool Rachel Comey Earrings Are Marked Down In Nordstrom's Massive Sale
Rachel Comey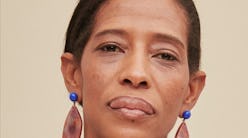 If you've been waiting for the fashion editor-approved Rachel Comey earrings to go on sale on the designer's website, you'll probably miss out on wearing the bombastic acrylic statement earrings to holiday parties (and the office, and everywhere else). Instead, get creative and peek at the Nordstrom Fall Sale, where Rachel Comey earrings and tons of other jewelry is on sale until Nov. 18. This isn't just a few dollars in savings, either: Nordstrom's Fall Sale has marked some seriously pretty jewelry styles up to 40 percent off.
Rachel Comey earrings fall directly in the realm of fashion editor style: they're modern and classic all at once, kickstarting trends (see: '80s acrylic earrings) while paying homage to staple earring shapes like hoops and door-knockers. As stylish as they are, the original $95 price tag for the Rachel Comey Camille Disc Earrings may have barred you from picking up a pair. But during the Nordstrom Fall Sale, you can get the abstract earrings in the amethyst or blue marble colorways for only $56.98.
Go one step further and grab the Rachel Comey Splitleap Drop Earrings while they're on sale. Originally $115, the earrings are 40 percent off, now retailing at $68.98. A simple acrylic round marks where the earring post is, then the design drops into a flat, feather-shaped acrylic shape textured with a marble-like appearance. All four colorways would get plenty of wear time, though if you had to pick, the purple and pink marble option's contrasting colors is perfectly on trend.
Not one to take too many risks when it comes to your earrings? Rachel Comey also does essentials with tailored flair. Crafted from sterling silver, the Chassis Earrings are marked down from $325 to $194.98. The curved shape is reminiscent of a front facing door-knocker earring, yet abstracted to a minimalist point. This is an earring that maybe won't turn heads like the acrylic numbers, but will go with any outfit, for any occasion.
The beauty of a department store sale is that there are hundreds of jewelry pieces to choose from, and there will at least be one designer that has your heart. If Rachel Comey isn't speaking to your style, maybe this Valentino necklace on sale will. During the Nordstrom sale, the logo necklace retails at $374.90, 40 percent off the original $625 price. Though you probably don't need convincing to jump for a deal on Valentino necklaces, the nameplate trend is coming back this winter, especially in dangly, deconstructed styles from luxury designers.
On sale for $237.98, this Alexander Wang chainmail bracelet is another easy choice. At 60 percent off $595, the bracelet has all the metallic glitter you could want in a statement bracelet, crafted in an intricately detail-focused way only the maestros from Alexander Wang could pull off.
From acrylic to rhinestone, luxury to essential, Nordstrom has the jewelry you've been waiting for to go on sale. Ahead, 10 sparkly pieces from the Nordstrom Fall Sale your jewelry box needs.