Here Are All The Best Looks From NYFW, Curated Just For You
Courtesy of Rodarte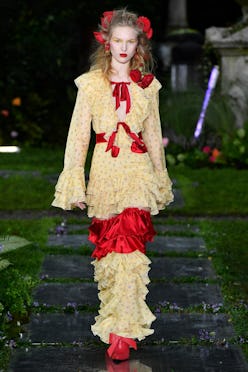 Now that the whirlwind of New York Fashion Week is coming to a close, myself and my fellow TZR editors Lauren Caruso and Mecca James-Williams are swapping our runway-side seats for our desks. Our task? To hash out the highlights of the 90+ shows, presentations, and events we attended over the previous eight days. The best of NYFW 2019 differed for each of us, but we all agreed that there was plenty of memorable moments, both on the runway and off it.
Personally, I always favor shows that hit me emotionally. Whether it be a magical setting and soundtrack (take the rooftop scene at Oscar de la Renta), inspiration doused in nostalgia (when models shimmied down the runway at Staud), or simply a design that makes me smile (like the Jaws merch at Calvin Klein), fashion for me is all about the feelings that come up in relation to the clothes.
Below, you'll find a few of my favorite moments from the past week, along with those outlined by the rest of The Zoe Report's editorial team. While we'll have to wait until spring to shop the collections, consider this a small peek at everything to get excited about in 2019.
Managing Editor Lauren Caruso's Picks
"Nanushka has been a personal favorite even before the brand made it to the NYFW calendar last season, and for spring 2019, designer Sandra Sandor outdid herself. The mix of breezy silks, nimble leathers, and daring prints that somehow double as neutrals make for a truly standout collection.
And the way she styled the chain-handled bags — worn on the front, the way an elementary schooler would wear a backpack as a joke — could have easily veered juvenile, but instead, it came off equal parts practical and fresh."
"Sally Lapointe isn't usually a brand that I identify with, but this season, the mix of translucent ponchos, tailored Bermuda shorts, and wear-with-anything knits made it a real contender for me.
In true Sally Lapointe form, the collection looks like it's made to mix-and-match: Each neutral, leisure-leaning piece would play with any other item in the collection — or stand out all on its own."
"I love a bra-top-and-blazer outfit and Dion Lee basically read my mind and then churned out better, more discerning versions of my favorite look. And between the sheer turtlenecks, purposefully baggy joggers, and the precisely tailored shorts, which skimmed the thighs and hit just an inch above the knee, it's impossible to pick a favorite piece."
Senior Fashion Editor Aemilia Madden's Picks
"Watching Rodarte's triumphant return to NYFW (after two years in Paris) was a highlight of the week for me. Staged in an etherial graveyard — in a drizzle no less — the romantic collection lightly touches on current trends, an '80s sleeve here, a splash of metallic there, but all with a delicate specialness that only exists in the Rodarte world."
"Sandy Liang is consistently one of my favorite presentations during NYFW. It's easy to envision wearing her quirky-cool clothes and she always picks a venue that has a personal tie to her life. This season, guests visited Congee Village, a restaurant on the Lower East Side that's owned by her father. Clothing-wise, I loved the mix of streetwear pieces (including a bucket hat I need immediately) and playful dresses, with Tevas, no less."
"One show that reliably holds my attention is Vaquera. Though it's not necessarily the most wearable collection, its presentations and outside-the-box thinking always manage to make me laugh. This season, the show was held in a school lunchroom with boxes of french fries and smashed bags of chips littered throughout.
"The high school-inspired show opened to the soundtrack of Harry Potter, and from there I never stopped smiling. Often, fashion shows can feel stuffy and serious, so to experience the opposite is always refreshing. The description for the look above was 'Goth heartthrobs t-shirt, Akeem's skirt'. What's not to love."
Contributing Market Editor Mecca James-Williams' Picks
"Maryam Nassir Zadeh does it every season, her own way! The colors, the styling, and the phenomenal accessories this season played with my heart strings as models made their way down the runway to The Lovely's music performed by Sudan Archives.
The collection featured bright pieces styled by Haley Wollens, including bags laced up models' arms. From the bright pastel hosiery to the golden orange pigments, this collection will be mine come spring 2019."
"My favorite moment of NYFW was, hands down, the Pyer Moss show and cookout. The final show on the third day of Fashion Week, Pyer Moss took over the historic Weeksville Heritage Center for the fifth anniversary collection in Brooklyn.
Weeksville, a multidisciplinary museum dedicated to preserving one of the first freed African-American communities, celebrated its' 50th anniversary this year. I knew this show would be monumental. Designer Kerby Jean-Raymond collaborated with '90s streetwear brand FUBU and artist and painter Derrick Adams on ten key pieces woven through the collection.
I was thwarted by rain and missed the show by minutes. Still determined, I jetted backstage to get a peek at the collection, where I ran into model and activist Ebonee Davis who opened and closed the show. Then the cookout afterparty started, rain and all, and the celebration began. Guests filled their plates, and danced soaking wet to the beats by Coco and Breezy!"
"Another favorite moment was seeing Indira Scott's New York Fashion Week debut! I've been following her and her sister Bria for some time, and seeing Indira's beaded braids sashay down Dion Lee's and Matthew Adams Dolan's shows was so refreshing. It was so good to see her in her chosen hairstyle, too. In every show she walked, from Michael Kors to Ralph Lauren, her beautiful braids were a hit.