Meet The New Clean Skincare Brand SOBEL SKIN Rx That Just Arrived At Sephora
Courtesy of SOBEL SKIN Rx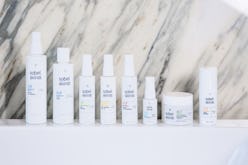 New skin care arriving at Sephora is nothing, well, new. The beauty retailer's Just Arrived page seems to update each and every day — making it hard to keep up and, more importantly, decide which launches to actually buy. Throw in the hullabaloo of the holiday season, and it'd be easy to miss spotting the new skincare brand SOBEL SKIN Rx, which debuted eight products online at Sephora on Dec. 26 (and officially arrives on Jan. 1 to ring in the new year).
Though beauty fans wouldn't want to accidentally skip learning about Sephora's latest addition. And yes, the brand's name may sound familiar to you, too; especially if you've been a skincare aficionado for quite some time. The skincare line was founded by Dr. Howard Sobel, the board-certified cosmetic dermatologic surgeon behind New York City's SOBEL SKIN (and an attending dermatologist and dermatologic surgeon at Lenox Hill Hospital). This isn't Dr. Sobel's first time launching products, either; he founded DDF Skincare, or Doctor's Dermatologic Formula, in 1991.
Of course, SOBEL SKIN Rx has its own tricks up its sleeve, factoring in Dr. Sobel's experience with impressively concentrated active ingredients. Many products from the new brand — like the $75 Bio Hyaluronic Moisturizing Cream or the $105 4.5% Retinol Night Treatment — employ its unique SB-100 delivery system. "It's a patent-pending vehicle that delivers high concentrations of active ingredients without irritating the skin. It does so by mimicking the epidermal and dermal barrier," Dr. Sobel himself tells The Zoe Report over email. "That helps keep water in and allow ingredients to be optimally absorbed in a time-released manner."
And while that's intriguing all on its own, it's equally noteworthy that the entire skincare line is cruelty-free, and formulated without parabens, phthalates, sulfates, fragrance, or emulsifiers. Additionally, the products are packaged in recyclable glass bottles decorated with soy-based inks, and have won the "Clean at Sephora" stamp of approval (which filters out even more ingredients, such as mineral oils and formaldehyde).
You can peruse the entire SOBEL SKIN Rx skincare line exclusively at Sephora or on drsobelskinrx.com. Below, four of the eight new products to add to your cart first.