This New Skincare Brand Uses Probiotics & Plant-Based Formulas In Every Product For Glowy Skin
Courtesy of Kinship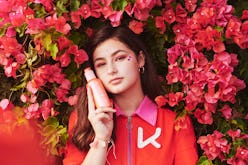 The process of getting good skin is extremely scientific. Closely inspecting every product you put on your face or in your body to determine whether it'll benefit your skin can start to get a bit clinical, virtually taking any enjoyment out of your daily regime. But new skincare brand Kinship makes getting your dose of skin-perfecting ingredients not just easy (its proprietary blend of science-backed probiotics is in every product it makes) but fun, thanks to bright and colorful sustainable packaging that you'll actually want to show off on your shelf.
If you keep one eye on the skincare industry, you know that probiotic-infused complexion care isn't a completely new concept. Through the rise in popularity of probiotic skin care it's been found that, just like your gut, your skin has its own microbiome at its natural barrier that craves balance. And probiotics in your facial products are proving to be helpful in strengthening and maintaining that equilibrium.
But when it came to including the helpful, healthy bacteria in its own range of skin care, Kinship wanted to bring something new to the table. So, the brand took one step further by working with a seasoned skin scientist to formulate its very own take: Kinbiome.
The proprietary plant-based pre-probiotic comes from fermented lactobacillus (one variety of the "friendly" bacteria, which is often found in fermented foods like yogurt), which works to support a strong, balanced natural skin barrier. Kinbiome is found in every product the new skin care line has created, ensuring that you'll get plenty of the irritation-taming, complexion-balancing power packed into your routine.
Kinship's scientifically savvy five-product range is accessibly priced too, with no single product ringing in above $25. The cruelty-free and plant-based collection includes skin care essentials like Naked Papaya Gentle Enzyme Cleanser, a $20 non-foaming cleanser with fruit enzyme and jojoba oil, naturally exfoliating Insta Swipe Lemon Honey AHA Pads, $22, and Supermello Gel Cream Moisturizer, a $22 hyaluronic acid, marshmallow root, and coconut water-based hydrator that plumps and protects. Self Reflect Probiotic Moisturizing Zinc Oxide Mineral Sunscreen, a $25 reef-safe SPF 32 sheer sunscreen, and vitamin A retinal and salicylic acid spot treatment called Pimple Potion, $18, round out the drop.
Plus, it's all packaged in as much recycled materials possible (like Ocean Waste Plastic) and shipped out in 100 percent post-consumer recyclable cardboard and paper — so each product is a relatively low-footprint purchase.
Got skin that's craving some balance? Give Kinship's probiotic and plant-based formulas a try and shop all five new products, below.