This Beauty YouTuber Launched Her Own Nail Polish Brand & The First Collection Is So Chic
Lights Lacquer/Instagram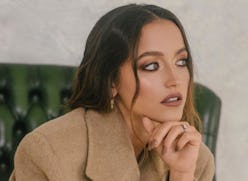 A whopping 4.15 million YouTube subscribers have one big reason to be excited this week, because KathleenLights' new nail polish brand Lights Lacquer made its official debut on Nov. 7. The beauty vlogger harnessed some serious girl power for the six-shade polish drop, and in doing so hopes to inspire fellow young female entrepreneurs to never give up — on their ambitious career goals, and on having great nails, too. Empowering nail polishes in some pretty unexpected shades, right this way.
This isn't the first time Kathleen Fuentes aka KathleenLights dipped her toes into developing a line of nail lacquers. Back in 2016 she launched KL Polish to wild success amongst her followers, but parted ways with her business partners over creative differences (in a March upload on her YouTube channel, she ambiguously referenced reasons for the split). Then, as it would appear, she got right to work on her entrepreneurial comeback. And this time around, she's doing it all on her own.
Clearly, her fans are excited about the new brand, which first teased its launch in an Instagram post on Oct. 30 and has already amassed over 80,000 followers (and growing) on the social platform. Now, it's finally available to shop.
Lights Lacquer enters the nail polish world with its six-shade vegan, cruelty-free GRL PWR collection, up for grabs at $9.50 each or as a $52 bundle on the brand's website. The empowered drop's theme was a no-brainer for Fuentes, who felt burned by her first business experience because of her age.
"People assume because you are young, you don't know what you're doing or that you aren't thinking of the long-term success of a business," she told Refinery29 in an interview about her new venture, "I think it's important to remind young entrepreneurs that being prepared to face age discrimination will ultimately lead to success."
So, names like Woman for a crème finish deep denim blue, GRL PWR for a multidimensional warm gold, and Jefa (which means female boss in Spanish) for the drop's cool, dusky sage green all make perfect sense. Rosie, a metallic taupe with coppery tones, is named for her mom, and gunmetal black-gray HBIC and deep chartreuse 11 round out the range with unexpected shades you wouldn't find easily elsewhere.
Feeling inspired? Shop the six shades from Lights Lacquer GRL PWER drop, below.