The Sustainable Fashion Heroes To Buy In 2020 According To Net-A-Porter
Courtesy Net-a-Porter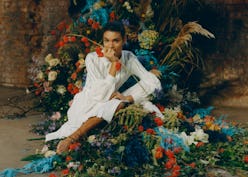 In June 2019, online luxury retailer Net-a-Porter launched Net Sustain, a program designed to promote a new, thoughtful future in shopping. It launched hinged on a set of values: considered processes and materials, reduced waste, local production, and craft and community. Now, the site is honing in on the idea of a forever wardrobe, creating a collection of sustainable options featured together on Net-a-Porter to help you build out a thoughtful, intentional wardrobe. "The longevity of your wardrobe will go a long way when trying to be sustainable," Global Buying Director Elizabeth von der Goltz tells TZR.
For 2020, the site is adding two new areas of focus — vegan production and animal welfare — to its existing list. It's also adding a number of new brands: 27 beauty and 45 fashion, bringing the total number of labels in the Net Sustain program up to 100. Included are labels like Stella McCartney, Gabriela Hearst, Wwake, and Veja — a mix both well-known and emerging brands, all of which champion both great design and conscious production. "It's all about investment pieces that can be worn season on season," says von der Goltz. "Also key basics that will always continue to rotate within one's closet that you can style with existing pieces you already own for a new look. This is what I like to call shopping your own closet."
This more holistic look at shopping — integrating new and old instead of starting over with fast fashion pieces season after season — is an approach that not only challenges you to reexamine your personal sense of style, but also to concentrate your budget on fewer, better items. Explains von der Goltz, "Investing in pieces that you believe you'll wear forever that form a basis of a sharp wardrobe is important as well as understanding how to re-style old pieces with new ones and be more thoughtful about your purchases overall."
Shopping vintage and upcycled pieces, participating in clothing swaps, and repairing worn clothes are all additional ways that you can begin to think about making your wardrobe more sustainable. Since cutting out shopping entirely isn't necessarily feasible option for all, minimizing your purchasing and doing research about the brands you buy can be doable ways to approach sustainability. Part of Net-a-Porter's goal is to make the research and education part easy for you by labeling which pillar of Net Sustain any product falls under. "Ultimately it,s about getting the consumer on board since they're the ones who are in charge behind sales," says von der Goltz.
Below, shop an edit of "forever" wardrobe pieces from Net-a-Porter's Net Sustain collection that you can buy now and hold onto for season to come.