Net-A-Porter Launched The Jewelry Collection Every Minimalist Will Want For Valentine's Day
Net-a-Porter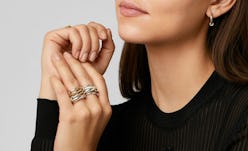 Every fashion-minded minimalist has a metaphorical white whale they've been chasing for years. It could be the perfect pair of everyday black jeans, or a tailored blazer that's somehow both long and form-fitting. For many, the battle to build a versatile, chic capsule wardrobe rages on. But for those who only ever dreamed of minimalist statement jewelry, it's time to go visit Net-a-Porter. The Spinelli Kilcollin x Net-a-Porter collection just dropped, unveiling exclusive mixed metal rings you could wear with any outfit.
Although Jan. 23 marked the premier of Spinelli Kilcollin on Net-a-Porter, this isn't the first time designer Yves Spinelli's immaculate jewelry has caught the fashion world's collective eye. The brand's pieces have adorned Dua Lipa as she performed, been spotted on Meryl Streep, and have been styled by chic models like Hari Nef and Emily Ratajkowski (who collaborated on a collection with the brand as well).
Spinelli Kilcollin's Net-a-Porter debut will feature five hoop earrings and nine stacking rings, with two ring styles exclusive to Net-a-Porter. The entire collection is still being released, but you can currently shop four Spinelli Kilcollin pieces at the online boutique — including the Luna SG Gold, one of the two exclusives. Featuring an 18k gold ring encrusted with diamonds instead of the regular Luna SG's sterling silver band, you won't be able to find the $4,900 ring anywhere else.
The other, not-yet-released Net-a-Porter exclusive is even more decadent. Known as the Nexus Blanc, the $10,000 ring is a new addition to Spinelli Kilcollin's Nexus ring collection, and will have five 18k yellow gold and silver rings with gray, cognac, champagne, and white diamonds.
A Spinelli Kilcollin design isn't created just to stay stacked on one finger, either; you can unfurl the stack and wear the rings across your hand. The connective links — also created from the same luxurious metals — hold the design together.
It may seem like a small detail, but stacked and unstacked Spinelli Kilcollin rings impact an outfit in different ways. Wearing one of the designs unstacked spreads out the design's glamour across your entire hand — and makes it look like you had the foresight to buy similarly sleek rings in a variety of mixed metals.
Previously, you could only buy Spinelli Kilcollin on the brand's website and at select stores like Barneys and Maxfield, so further expansion to Net-a-Porter is exciting for both fans and the online store's own team. Emily Wansbrough, Net-a-Porter Fine Jewelry and Fine Watches Buyer, posted a picture of a set of stackable rings from the brand. While swoon-worthy, the IG post also revealed that shoppers can contact Net-a-Porter's shopping team to create a custom Spinelli Kilcollin stack.
Spinelli Kilcollin's unique jewelry will only grow in popularity as more minimalists discover the designer's work and the non-traditional engagement ring trend continues to grow. Before they sell out, continue scrolling to shop all four pieces live on Net-a-Porter, and keep an eye on Spinelli Kilcollin's Net-a-Porter page for the rest of the collection.