The 14 Best Finds From Need Supply's Massive Sale (Including The Chicest Maryam Nassir Zadeh Mules)
Need Supply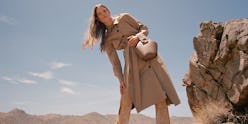 When it comes to fashion, staying ahead of the curve can be just as elusive as attaining that effortless French-girl style. Plus, the hunt for the latest brands and the next set of trends can feel like a never-ending journey — one day, everyone's obsessed with a brand, and the next, they've moved onto another. That said, Need Supply's Friends & Family Sale can make staying on top of what's trending a little easier, thanks to its curated selection of gems at currently discounted prices.
If there's one place you can count on to have stylish fashion-girl favorites, it's Need Supply. The Richmond-based online retailer showcases an expertly curated selection of well-established labels like Acne Studios, Tibi, GANNI, and Maison Margiela, as well as up-and-coming brands destined to be on It girls everywhere. You'll also find trendy brands such as Maryam Nassir Zadeh and Nanushka, which further exemplify Need Supply's impeccable ability to spot the next big thing.
During the company's Friends & Family Sale, you can get 30 percent off on nearly everything on the site — including many of the new arrivals for spring. To get this discount, all you need to do is enter the code "Friends30" at the checkout (just note that there are some brand exceptions, so be sure to check out the details before you shop). Whether you've been eyeing something in particular for the past few weeks, or you simply want to prep your wardrobe for the warmer days to come, this is the time to shop.
Get yourself ready for spring with pieces to brighten up your ensembles, like these chic Agatha Leather Slides from Maryam Nassir Zadeh, which are $254 after the discount. These shoes bring to mind the beloved children's book Rainbow Fish and can dress up a pair of relaxed jeans and a classic white tee. If you want to play up the pastel hues in the mules, style it with the Beaufille Rousseau Sheer Blouse, which is available for under $400 during the sale. The periwinkle top is made with 100 percent silk organza, which gives it a light and ethereal touch.
You can also use the sale to stock up on everyday staples from the retailer's in-house brand NEED, such as the Dye Tee or Pen Fit jeans. Or, if you want a more luxurious piece, opt for a knit top like the Lauren Manoogian Links Tank, which you can wear through summer.
Now, scroll down to see more must-have pieces from Need Supply's Friends & Family Sale.