The Crucial Health Benefit That'll Make You A Morning Workout Enthusiast
Shutterstock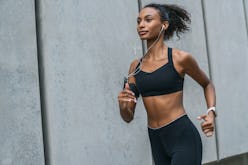 These days, it seems most people can be broken up into two categories: those who work out in the morning or those who work out at night. While the importance of fitness has never been under debate, theories behind the best time of day to fit it in definitely have. And, to be honest, even experts are torn.
Now, to be clear, there truly isn't a correct time of day to exercise. The simple and regular act of movement and getting your heart rate going will always be good things no matter what. "There is nothing more important in the fitness game than consistency," says certified fitness expert and celebrity trainer, Andrea Marcellus. "So, whether you work out in the morning or the evening doesn't matter so much as the fact that you are getting your heart rate up for a bit each and every day. The method I use sets the bar at 20 minutes per day, because that's an easily hittable mark, even if it just means walking 10 minutes in one direction and 10 minutes back at lunchtime."
Fair enough. However, that said, when you work out can come with some added benefits besides an increased heart rate. Better sleep, higher energy levels, and decreased stress and anxiety can all come into play depending on when you choose to schedule your cardio or yoga session for the day. To help you figure out which fitness schedule is best for you, ahead, fitness experts sound off on the pros and cons of both morning and evening workouts.
Morning Workouts
Pros
Does the early bird truly catch the worm? According to NASM certified personal trainer and Lead Sleep and Fitness Expert for TheSleepJudge.com, Jessica Ruiz, yes. "In addition to the endorphin boost it gives you for the day, morning exercise is also a more rejuvenated starting point since you just woke up from restorative sleep when muscle repairs were made and cellular oxidation has taken place," she explains. "There's also an improved quality of sleep. This habit triggers the body to release melatonin earlier in the evening, a hormone known to have a positive impact on sleep. You're also boosting your own natural circadian rhythm when you exercise in the a.m. by increasing cortisol levels early in the day."
Also, if you're one to struggle with anxiety or stress (who doesn't?), you might consider setting that alarm clock early. "Working out boosts cognitive function and helps stabilize mood by increasing activity in the hippocampus, the area of the brain responsible for learning, memory, and mood regulation," says Kate Denniston, a licensed naturopathic doctor. "For people with anxiety, exercise increases amounts of GABA in the brain, which is one of our calming neurotransmitters." Marcellus adds that she often suggests clients work out first thing in the morning as "morning exercisers find it easier to stay consistent with a workout program for longer. It's too easy for life to get in the way if you regularly leave your workouts for night time."
Cons
With the good also comes the bad. According to Ruiz, morning workouts may not be for you if, "you have always had difficulty waking up early as this will increase the chances of quitting your routine." The fitness pro also warns that those focused on hypertrophy will have issues in the wee hours of the day "as strength is known to be weaker in the morning."
Evening Workouts
Pros
All you anti-morning people are in luck. Evening exercise is popular with good reason. "You're less distracted and rushed with the thoughts of your daily responsibilities running through your head," explains Ruiz. "You have a better opportunity to properly fuel and hydrate the body as opposed to morning workouts. Also, there's a reduced risk of injury since the body is warmed up and the joints are loose."
Also, Dr. Jay Umarvadia, non-surgical sports medicine physician at Andrews Sports Medicine & Orthopaedic Center explains that people who work out at night are often more alert and have more sources of accountability (i.e. finding friends to join a workout class or go on a run). "After a long day, evening workouts can be a beneficial stress reliever," says Dr. Umarvadia. "Nighttime workouts can provide a surge of energy, and your body is typically more prepared to be active in the evenings following a full day, making you less susceptible to injury. One major benefit to nighttime workouts is the ability to fit in a longer session, since you're likely not rushing to get to work, school or other obligations."
Cons
Robert Herbst, personal trainer, wellness expert, and powerlifter explains that some believe "if you exercise too close to going to bed, you will have sleep difficulties because the body will be revved up, although the body adapts and many people successfully work out at night." While this point is definitely a case by case observation, Ruiz adds that exercise increases metabolism, adrenaline, and stress hormones that can make it difficult to get to sleep."
At the end of the day (or beginning), physical fitness will always be a good thing. So, no matter when you choose to work it in, keeping it, just make sure you're consistent and choosing a workout that makes you feel great. As Johnathan Smith, AAAI/ISMA certified, well-being and fitness/body expert, author, founder of iROBOTFIT so eloquently states: "Ideally, you ought to focus on what you can do, which times makes the most sense and work from that space.