Why Editor's & Celebrities, Alike, Can't Stop Wearing This Cult Jewelry Brand
Courtesy of F+H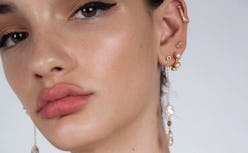 If you're the type of person who turns to Instagram as one of your go-to sources for the latest up-and-coming fashion brands, chances are you've seen that a large handful of those labels are from Australia. So many, that it's nearly impossible to scroll through your feed without stumbling across a stylish brand from down under. What's more, is that they all have pieces you'll never want to take off. Case in point: F+H, a minimalist jewelry brand hailing from Byron Bay.
For anyone who's looking for stylish jewelry to wear for everyday occasions, F+H is for you. The emerging jewelry brand — whose name stands for Femme + Homme — is a complete treasure trove of options to style with your ensembles. From an edgy pair of earrings like the $98 Dylan Max Earrings or elegant necklace like the $162 Get Down Necklace, which touches on the baroque pearl trend), the brand's pieces will seamlessly into your wardrobe.
F+H aims for its pieces to be the touch of empowerment in anyone's wardrobe. The brand's founder and creative director, Sharona Harris turned to jewelry way to build confidence in the workplace, where she felt challenged by men. As if it were a type of armor, jewelry led Harris to become improve her sense of self at the office. Not long after, she began designing the pieces that would eventually become the F+H collection
"Wearing strong fashion and accessories with a masculine edge makes me feel empowered," Harris shared in a statement. She hopes that her line will give women the strength they need in any situation. "I believe all feminine power has to be balanced by a masculine side, and that's why I design pieces with a tomboy attitude; for women to feel like they can equivocally kick-ass regardless of their surroundings."
The brand has already become a cult-favorite among editors and It girls including Margot Robbie, Sophie Turner, and Alexa Demi, to name a few — and it's easy to see why. F+H strikes the perfect balance between feminine power and masculine energy. Wear a statement-making piece like the Royal Chain Necklace, $101, with a classic tailored blazer and trousers. Or, wear the $95 Paris Blues Signet Ring for a simple piece that's bound to stand out.
Anyone who likes to sport an earring look will obsess over the $71 Low Ride Hammered Hoops or the $57 Jones Triple Chain Studs. Both of these styles will add a cool and understated toughness to your outfit.
If you're ready to add this chic line into your jewelry box, scroll down to see more must-have options from F+H.