Michael Kors' Spring/Summer 2020 Show Was A Spirited Take On The American Dream
Courtesy of Michael Kors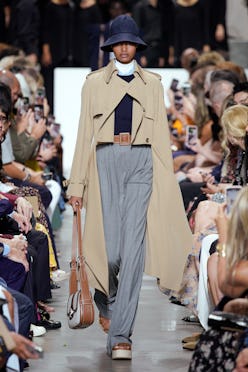 Michael Kors is feeling good — or at least that's what his newest collection would no doubt have you think. His most recent take on Americana sportswear, something he's mastered over the years with his namesake collection, was patriotic in the most literal sense: spirited diligence, swelling pride, and a healthy dose of nostalgia for a bygone era. Held on Wednesday morning at the Brooklyn Navy Yard, the Michael Kors Collection Spring/Summer 2020 runway show presented a romanticized version of '40s New York — fresh off its World War II win — evident not just in its mostly red-white-and-blue color palette but in the working-woman silhouettes and unabashedly feminine details throughout.
"I am a native New Yorker and I wanted this show to highlight the strength and optimism and can-do attitude of our city," said Kors in a release, which confirmed that this collection was his take on the American dream. It shouldn't go unnoticed that the show was especially sentimental given the date of the show: 9/11. "The collection explores the balance of pragmatism and charm and power and romance that is at the core of American fashion. It is a celebration of the diversity of American style and beauty."
And there's a reason why '40s silhouettes, what with their nipped waists and strong shoulders, never fall far out of style. On the runway, Kors' optimism translated to flowy summer dresses in feminine polka dot patterns, structured preppy blazers with double-layer peplum, and even a couple of "picnic gingham" shorts suits paired unexpectedly with a bra-top.
Though Kors stopped short of actual flag motifs, there were enough gold appliqué anchors and star-shaped grommets to go around. Twice throughout the show, Kors sent a sweater emblazoned with the word "HATE" crossed out down the runway, too.
As a nod to his penchant for glamour, Kors finished the show with a bit of glitz: At first, that came in the form of glittery fruit motifs — cherries and lemons, to be exact — atop nipped-waist midi dresses, and later, a floor-length gown that was practically begging for its red carpet debut (Nicole Kidman, who watched from the front row, perhaps?).
In the rare case all of the references were lost on you, the soundtrack of the morning, lead by the Young People's Chorus of New York City, started with an upbeat iteration of "American Pie" and was followed by "This Land Is Your Land;" "Americana;" "Somewhere Beyond the Sea;" and "New York, New York;" before finishing with "Love Train" to match the high energy of the finale.
Kors called 1940s NYC the "birthplace of American sportswear," and according to the show notes, that meant finding the middle ground between "prep versus punk" and "luxe versus relaxed" — certainly not groundbreaking, but nonetheless fresh. One thing's for certain: No matter which decade he's borrowing from, Kors knows how to dress a woman well.