Meghan Markle's Wedding Makeup Was Inspired By Pinterest Photos, According To Daniel Martin
WPA Pool/Getty Images Entertainment/Getty Images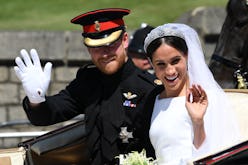 It's been more than a year since her wedding day at Windsor Castle and now we're finally getting the real scoop on Meghan Markle's bridal beauty, thanks to her makeup artist and close friend Daniel Martin. As the first-ever guest on a newly launched podcast called Gloss Angeles, he talked about what it was like being behind the scenes on the duchess' wedding day. Spoiler: it was surprisingly casual.
People from all over the world — in every country, seemingly — got worked up about the big day, waking up at ungodly hours of the night to watch Markle walk down the aisle. The bride, however, was perhaps the least phased out of everyone. The girl wasn't even a bridezilla in secret, says Daniel Martin, who did her makeup that day.
Since the wedding, her glam squad has spoken out about just how casual — we're talking low-key to a shocking degree — the royal was on her wedding day. As if having her nuptials broadcast globally and Queen Elizabeth in the flesh sitting front row was no big deal at all.
She reportedly had only one hair trial before game day and now Martin reveals she used Pinterest for makeup inspiration. Could she be any more real?
"I didn't have a makeup trial with her because we couldn't make the time," he told hosts Sara Tan and Kirbie Johnson on Gloss Angeles' latest episode. "I knew what she liked and didn't like."
Martin had been doing up Markle for press tours and photo shoots for nearly a decade at that point, so he was already acutely familiar with her natural aesthetic. Neither of them wanted her beauty to outshine the dress anyway.
"The dress is so architectural, if she had any more makeup on, you wouldn't even look at the dress," he said. "That's not what that moment is about."
So, they exchanged some Pinterest screenshots over text message and he flew in just before the main event. Despite the throngs who had been waiting outside the castle for hours yearning for a glimpse of their new duchess, Martin said the whole thing was pretty stress-free.
Markle is "the most chill person," he told Tan and Johnson when they asked whether the duchess was nervous. "That morning was just easy. Nothing phased us." It wasn't until their motorcade was weaving between thousands of eager people en route to the castle that he realized: "This is major."
The celebrity makeup artist goes on to talk about his favorite methods, tricks, and drugstore products in the episode, available on iTunes now.