Meghan Markle Finally Revealed Her Due Date
Richard Martin-Roberts/Getty Images Entertainment/Getty Images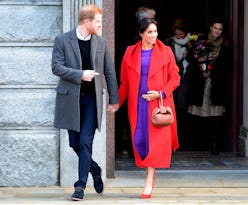 Fans and followers just got wind of a major detail about the newest addition to the royal family. While the public has spent the last few months speculating details about her baby's arrival, Meghan Markle's due date has officially been confirmed. On a visit to Birkenhead on Mon., the Duchess of Sussex revealed that she and Prince Harry are expecting their little one in late April.
Markle revealed her baby's anticipated due date while she and her husband spent time greeting supporters in Birkenhead's Hamilton Square. According to People's source, Carla Gandy, the Duchess gave fans some first hand information about the pregnancy. "We asked her how her pregnancy was going and she said she was six months and she tapped her tummy," Gandy told People.
As for the gender of the royal baby? It seems as if mom and dad are purposefully staying in the dark as to make their delivery day even more of a joyous surprise. People reported that Markle responded to a young girl's question about the gender by saying, "We don't know whether it's a boy or girl, we are keeping it as a surprise." The royals' doctors are likely the only ones with access to this crucial tidbit.
It's been a while since Kensington Palace's Oct. 15 announcement of Markle's pregnancy. Just ahead of the couple's royal tour of Australia, New Zealand, Fiji, and the Kingdom of Tonga, the palace took to Twitter to confirm the news. "Their Royal Highnesses The Duke and Duchess of Sussex are very pleased to announce that The Duchess of Sussex is expecting a baby in the Spring of 2019," the post read.
Markle's pregnancy style has inspired expecting mothers and fashion lovers alike over the past few months. Shortly after announcing her pregnancy, Markle stayed true to her trendy twist on traditional style with pieces like a floral midi dress, structured trench coats, and of course, her favorite Aquazzura heels.
She only recently stepped out in a true maternity dress, sporting a short-sleeve midi by Hatch last week. The Duchess elevated the comfortable-looking ensemble with cow-print PVC pumps, a slicked-back bun, and a statement ear crawler. In classic Markle fashion, she kept her makeup minimal, paying special attention to glowing skin, neutral lipstick, and subtle, smoky eyes.
Although her pregnancy style is one for the books, there's something just as exciting about the potential "cool mom" outfit picks she has up her sleeve for three months from now.