This Is How To Pull Off Prints, Even As A Minimalist
Courtesy Of THE OUTNET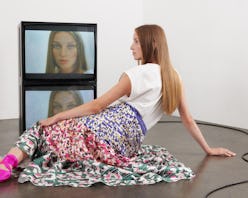 British designer Mary Katrantzou is best known for her eye-catching colorful designs. She launched her eponymous label in 2008, and its hyper-real digital prints quickly became her calling card. This past fall, Katrantzou transported editors post-Paris Fashion Week to Athens' Temple of Poseidon for her Spring/Summer 2020 show, offering gowns embellished with fringe, sequins, and feathers against the incredible backdrop. Now, she's bringing her bold prints to a new audience with a new collaborative collection, THE OUTNET x Mary Katrantzou.
"Our intention was to create a collection using up-cycled fabrics from our archive and re-invent them," Katrantzou tells TZR. "In the past 10 years, we have created so many different prints and designed so many of our own fabrics. There is so much potential in re-contextualizing your own work." If you've been a longtime advocate of the label, you have the opportunity to own a vintage-feeling piece, created exclusively for the retailer. "For THE OUTNET we created a capsule mapped around the interplay of jewel tones and different scales of animal print from our archives." But, the designer's prints aren't the only noteworthy aspect of her pieces — her past collections have been carefully detailed with exquisite fabrics, beadwork, and embroidery that have all contributed to the know-it-when-you-see-it appeal of her designs.
The Athens-born designer explains that she's been continually inspired by both her past and present. She says of her current hometown London, "it's eclectic and unique and the freedom people have to express themselves is what make the city so unique stylistically." This staunch individuality is part of what has set Katranzou's designs apart over her tenure. "The most exciting thing in fashion right now is its fluidity and the opportunity it offers to experiment with different styles, while also maintaining your own personal style." While you wouldn't ever call her pieces minimalist, there's still room for a pared-down dresser to make the most of her designs. "Micro-prints are perfect for those who want to own a printed piece but are reluctant," she explains. She's also partial at the moment to color-blocking as a way to bring a little extra color into your wardrobe.
Included in the new collection are 14 pieces, priced from $595 to $2,150, with the range to bring a range of new fans into the fold, and to satisfy longtime loyalists to the brand. "The Mary Katrantzou woman is fearless and bold, with an appreciation of art and the imagination found in creativity," adds the designer. "She expresses herself through clothing." Through the new collab you can express a bolder nine-to-five version of yourself with suiting separates and colorful blouses. Or, now that holiday season is around the corner, there's a strapless metallic gown included that's perfect to pair with heels and a metallic clutch.
Whether you've been a fan of Mary Katrantzou since the very beginning, or are just becoming acquainted with her work, below shop eight pieces from her new capsule with THE OUTNET.