Maria Sharapova Thinks This Is The Anti-Trend Sneaker You'll Wear Forever
Courtesy Of Nordstrom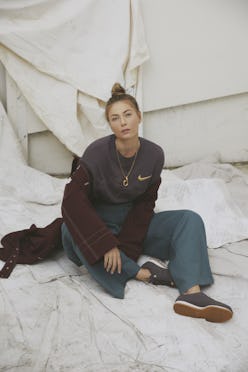 Athletes are usually known for the uniforms they wear on the field, court, or if they're lucky, the winner's podium. But Maria Sharapova takes her off-duty style just as seriously. The Wimbledon champ and Olympic silver medalist just debuted her third Nike collaboration — bringing back a new iteration of her cool Cortez sneakers, and for the first time also introducing clothes. Sharapova's new Nike collection — La Cortez sneaker included, is meant to embody her classic-meets-laid-back style. "I tend to stick to nudes and grey colors, similar to the ones you'll see in this collection," Sharapova explains to TZR via email. "In sneaker culture today where it's often about having the trendiest, loudest shoe, the La Cortez is something you can wear for years, and that's reflective of how I style and shop for myself."
Sharapova explains that her current schedule — she's constantly traveling but calls L.A. home — has made pieces like leggings and sweatshirts key not just to her workouts, but throughout the day. "I'm often wearing athleisure pieces to and from my training, so if I have a meeting in between that's usually what I'll be dressed in," she explains. But, she notes that she's less focused on how a look comes together, and more set on how she feels walking into any room. "There are styling tricks to elevating athleisure, but at the end of the day it's all about the energy and confidence you bring to a certain look, and for me I usually feel my best when I'm most comfortable."
For the newest Nike collab, Sharapova chose a "blackened blue" color for her pieces, because it's transitional — easy to dress up or down — while still remaining essential. "It was important when we were designing each of the pieces that they capture my off-court style, incorporating timeless silhouettes that are really versatile and functional," she says. And though it may not be obvious at first glance, accents including the jacket's velcro label (which reads discipline in Cyrillic) tie back to Sharapova's Russian heritage, a detail that she notes "felt really special to me." She adds, "I've worked with Nike for well over a decade now, so it's special to have the opportunity to go deeper with them and infuse my own style and aesthetic into a collection that's such a staple for them."
Sharapova's latest collab is four pieces in total, ranging from $55 to $150 and is now available at Nordstrom. The signature La Cortez sneaker is the flagship, alongside leggings with Nike detailed on the waistband, a quilted bomber jacket with a velcro patch, and an embroidered long sleeve shirt. You can wear all the items together, as modeled by Sharapova, but, each piece is designed to pair off just as well with the everyday staples in your current wardrobe. Her recommendation: try styling the sneakers with a jumpsuit, "it's a great transitional fall piece that you can layer over lightweight sweaters."
Below, shop the pieces from Sharapova's latest Nike collab.