Margot Robbie Made A Bohemian Maxi Dress Red Carpet-Ready
Gareth Cattermole/Getty Images Entertainment/Getty Images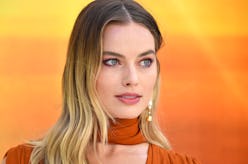 This Aussie actor could arrive on the red carpet wearing a belted burlap sack and still make the best-dressed list, it seems. Although much prettier than burlap, Margot Robbie's green dress wasn't what you would expect to see at a Blockbuster premiere, per se. In fact, it looked remarkably like the breezy maxi you'll be wearing to brunch this Sun.
Robbie channeling Sharon Tate circa-1968 all summer has been the treasure trove of fashion inspo you didn't know you needed. It started with a few face-framing braids in Cannes and spiraled into full-on groovy pajama separates and a dress that looked to have been modeled after the one Tate wore in Twelve Plus One.
Needless to say, the Once Upon a Time ... in Hollywood actor is having an absolute heyday with her new retro aesthetic lately, and her alter ego was on full display at the Berlin premiere on Thurs.
Robbie's olive-green maxi dress was the stuff of '60s-era boho dreams. Thin, delicate straps, casual buttons up the front, and a flowing, tiered skirt added a touch of Woodstock to her latest red-carpet look. The dress originally debuted with a chunky orange bangle during Jacquemus' Resort 2020 presentation.
The $1,000 dress is sold out, but it's one you shouldn't have a problem replicating on your next trip to Anthropologie or Free People.
Robbie wore the dress with drop earrings by Agmes and Tabitha Simmons heels, but a statement piece like this would do just fine on its own, accessorized only with your most comfortable pair of strappy flats.
It's loose, free-flowing, and designed in the earthy tones that gypsies made popular in the late '60s. Channel your inner hippie with a Margot Robbie-inspired maxi this weekend. The Zoe Report's favorites, ahead.
Shop The Look