Marc Jacobs Beauty Now Has A Liquid Version Of Its See-quins Glam Glitter Eyeshadow (& It's Stunning)
Marc Jacobs Beauty / Instagram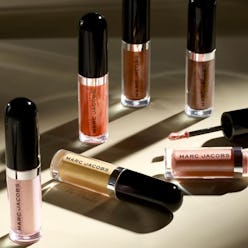 Eyeshadow isn't exactly known for saving people time. Between finding the right shade for every part of the eyelid and figuring out how to blend all of those colors for the desired look, applying it can take longer than all your other face makeup combined. Plus, there's the post-application — you know, cleaning up all of the excess that fell onto your cheeks during the process (which is even worse if it contains sparkle). It's a struggle that many makeup users would gladly trade for an easier step — and one that Marc Jacobs Beauty clearly recognizes. Enter: the brand's new $26 See-quins Glam Glitter Liquid Eyeshadow.
"It's genuinely no more than a one-minute process for one eye," makeup artist Lucy Garland explained of the new launch in a YouTube tutorial for the liquid eyeshadow on Marc Jacobs Beauty's official channel. But what is it, exactly, that makes this new long wear, crease-resistant shadow so easy to apply?
"Liquid shadows are generally really, really hard to use," the makeup artist said in the video. "But these, in particular, really hit a lot of good points for me. Because they're so shimmer packed, you can get a really, really bold look with just one swipe. I like to use my finger, and then kind of going in and blend a little bit with the brush."
And, according to an independent consumer study on 31 volunteers of the liquid eyeshadow, you really won't have to worry about it getting all over your face or being too difficult to use. As Marc Jacobs Beauty's site notes, 100 percent of users agree this product didn't fall onto face when applying, and 97 percent of users agree this product is easy to apply.
If you're on the hunt for an easy-to-use product for the eyes, this liquid version of Marc Jacobs Beauty's original See-quins eyeshadow is a no brainer. So the only thing left to decide is how you're going to use it for your holiday looks — for which Garland has a couple of ideas.
"So I like to wear it alone, just one shade, and you have a really sparkly, gorgeous glam eye," the makeup artist continued in the YouTube video. "Another way that I really enjoyed using them was taking an O!Mega shadow, just a regular shadow on the base, and then just using my finger and taking a bit of the See-quins and just placing it right in the middle, just for a little bit of a pop."
Shop all six shades online at Sephora, Harvey Nichols, Marc Jacobs Beauty, Marc Jacobs, or ahead for a glam (and surprisingly easy) New Year's Eve look.