Marc Jacobs Beauty's Newest Collection Is Proof It's Time To Add Some Glitter To Your Routine
Marc Jacobs Beauty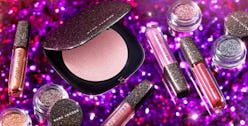 Ready for your beauty mantra for the rest of 2019? Life's way too short, go for something sparkly. Playing it safe is all well and good, especially for certain occasions (say an important meeting with your boss or the first time you meet your new partner's parents), but otherwise what's the harm in throwing caution to the wind and embracing a dazzling dose of sparkle? Marc Jacobs Beauty's Lust & Stardust Collection, for one, is making an incredible case for all things glittery and glowy from look-at-me lips to enviably glimmering eyes — and it just might finally convince you to come over to the shimmery side. It's fun over here, trust.
For its latest limited-edition launch, Marc Jacobs Beauty looked to an undeniably glittery time period for inspiration: The glam-rock era of the '70s. It was the time of platform shoes, leather pants and spandex pieces, outrageous hairstyles, and a whole lot of sparkly makeup. To translate the unapologetically glam time to modern day, the fan-favorite beauty brand naturally kept the glitter, but gave it an of-the-moment upgrade for the most gloriously sparkly color cosmetics you've ever seen. The Lust & Stardust Collection may be created with holiday 2019 in mind, but it's safe to say you'll want to get your hands on it now.
To appeal to the glam-rock star within you, Marc Jacobs Beauty created four limited-edition shades of its See-Quins Glam Glitter Eyeshadow, $28, plus an all-new limited release shade of its cult-fave O!mega Glaze All-Over Foil Luminizer, $49. The intensely-pigmented eyeshadows are demi-pressed and designed to provide rich, even, color that glides on easily and puts the fine flecks of glitter on center stage — choose Glam Rock, a sparkling charcoal shade, or aubergine hue Pop Rox to amp up your standard smokey eye, or blend golden Stardust with warm mauve Smash Glitz for a cool two-tone look.
Liberally dust the high points of your face (and your collarbone and shoulders, too) with the collection's limited-edition champagne-pink luminizer, Showstopper. It's made with micro-fine reflective pigments, not glitter, so it applies seamlessly for a radiant glow that looks like it comes from within. In other words, i's an ideal way to create a full luminous face, without nearing too-sparkly territory.
And because every big beauty brand has proven that no collection is complete without a gorgeously glittery, high-shine lip gloss, Marc Jacobs Beauty made sure its holiday collection had four to choose from. The Enamored Lip Hi-Shine Gloss, $28 each, combines maximum color payoff and plenty of fine, multidimensional shimmer pigments for a look that glimmers from every angle. Pick Genie Kiss, a champagne pink or Pick Up!, a tawny gold, if you prefer nude shades, or grab bubblegum pink To The Moon and deep rosy-peach Atomic if you want your pout to pop.
Finally feeling ready to dip your toes into the sparkling beauty pool? Keep scrolling to shop Marc Jacobs Beauty's glittery new buys below.