The Bizarre Ingredient In Marc Jacobs' New Concealer That Keeps It From Creasing
Sephora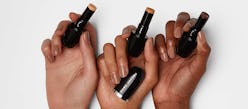 There are a lot of brilliant things to love about the new Marc Jacobs Beauty Accomplice Concealer — things fans have come to expect from the powerhouse makeup brand; like the fact that the stick concealer performs similar to a liquid formula, providing creamy and long-lasting full coverage. Or its sleek, portable packaging, perfect for tossing in your purse and forgetting about (until you need that midday touch-up). Even a wider shade range — the Accomplice Concealer has 17 to choose from — is the norm for makeup brands these days. However, Marc Jacobs Beauty had a few tricks up its sleeve when it came to the Accomplice Concealer. To find them you need to take a look at the formula.
You may already have a tube of the concealer coming your way, too. While it doesn't officially launch at Sephora until March 21, Rouge status Sephora Beauty Insiders got early access to the $32 Accomplice Concealer & Touch-Up Stick on March 18. (So if you're a Rouge member, go grab yours early.) Non-Rouge members can't blame Sephora for teasing shoppers; fans have been eagerly awaiting the concealer since it appeared on the bright, fresh-faced models during Marc Jacobs' Fall/Winter 2019 show.
But how did the concealer give every model that natural, crease-free glow? You have snow mushrooms to thank for that. The concealer is formulated with the popular — yet still slightly unknown — skin care ingredient, written as "Tremella fuciformis polysaccharide" in the ingredients list. The gelatinous fungus performs much like hyaluronic acid, a hydrating hero anyone with dry skin knows well. So, when you add that to concealer, the snow mushroom plumps skin up with moisture from the inside out, giving you a smoother canvas that won't crease or look cakey throughout the day.
This isn't the first time the brand has used the mushroom to keep skin happy. The cult-favorite Marc Jacobs Beauty Shameless foundation also mixes in snow mushrooms to help give users a youthful glow. And eagle-eyed fans already know that these products are only the beginning of Marc Jacobs Beauty blurring the line between skin and makeup: The brand has announced it will be launching Marc Jacobs skin care June 2019.
Until then, just makeup will do. Grab your own Accomplice Concealer when it drops from the link below.