NYFW's Coolest New Concealer Doesn't Drop Until April, But It's Worth The Wait
Khalea Underwood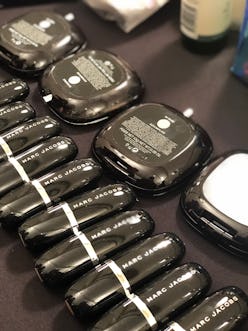 With a track record that includes 37 dye jobs in one day and yarn dreadlocks that had the fans decidedly split, you never really know what to expect when you walk backstage into a Marc Jacobs fashion show. I braced myself for something big, colorful, and bound to be the topic of my group chat — but pros Diane Kendal, Jin Soon Choi, and Guido Palau surprised the small group of editors (and, eventually, the rest of the fashion world) by toning it down this season. The biggest surprises, perhaps, are the new beauty products hitting shelves soon: the Marc Jacobs Beauty Accomplice Concealer & Touch Up Stick and the Accomplice Instant Blurring Beauty Powder With Blush, launching April 2019, and the Youthquake Gel Crème Moisturizer, launching in June 2019.
"Iconic dressing is the inspiration from the show," Kendal tells The Zoe Report backstage. "We're just doing really gorgeous skin, brushing the eyebrows. We're using the new moisturizer — which is a really great cream — and concealer to create a beautiful finish to the face." According to the brand, "Marc wanted each girl to feel and look like their best self, rooted in the confidence of soft, smooth, natural skin," a the show notes explain, adding that the new products give you skin so smooth, it looks filtered. And the Youthquake Gel Crème Moisturizer helps with that — Gilbert Soliz, Marc Jacobs Beauty Global Makeup Artist, tells me that the lightweight cream (which reportedly contains hyaluronic acid and pineapple enzyme) can double as a primer, too.
The concealer is available in 17 shades, and boast a rich and creamy finish — the complete opposite of what most people associate with makeup sticks. "People often reach for liquid makeup when it comes to full coverage and longwear," Soliz continues. "Traditional sticks get a bad rap on being dry and tugging on the skin. What we've done is brought the best of both worlds. Accomplice acts as full-coverage concealer, and there's a unique little dip on the top that's perfect for touch-ups on the go."
The Accomplice Concealer & Touch Up Sticks are available in five shade categories: fair, light, medium, tan, and deep, a pretty broad range that was tested on models of all ethnicities. "Just go right on your T-zone, and bounce it with your favorite beauty sponge," Soliz instructs. Or if you prefer working with your hands, the malleable formula melts into your skin perfectly with your fingertips, he says. Don't worry about the product running out after a couple of uses: very little goes a long way here. Plus, Soliz says that gradually building your coverage is the best route to go.
As for the powder, it utilizes a refined pearl pigment and is designed to soften, refine, and reflect, Soliz says. "There are four: Starlet is the deepest of them all. Ingenue is our lightest, and there's Siren and Muse. I can wear all of these if I wanted to brighten, warm, or bronze." But the coolest aspect of this pressed powder is the magnetic brush housed on top: it's functional, great for touch-ups, and I don't have to worry about it falling to the bottom of the cesspool that is my handbag.
The coverage of the product is translucent, and can be used to set and touch-up, too. "It has silk quality. Tonight, we're blending it over the whole face and powdering where needed." After artists brushed a bit of New Nudes Sheer Gel Lipstick in In the Mood 152 on the cheeks, filled in the brows, and applied a bit of Lip Lock Moisture Balm SPF 18 on the lids and cheekbones, the girls were ready to go, proving that minimalist beauty can be maximally gorgeous. We've reached out to Marc Jacobs for pricing and availability for each product.
Shop some of the hero products below.