An Inside Look Into Mango's New Fall Collection (As Told By Two Of The Campaign's Stars)
Courtesy of Mango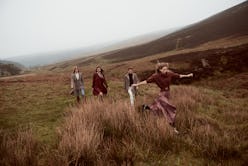 Though it may be dressed for the season, Mango's Autumn/Winter 2019 collection is looking much further ahead than the upcoming few months. At its heart, the Spanish fashion label's new seasonal collection — which officially debuted online Aug. 26 — has its eyes set on the future. "Fashion is, by definition, changing again and again. So I don't think fashion has a particular status quo because of the pace," Rebecca Leigh Longendyke, one of the campaign's stars, tells The Zoe Report via email. "In order to be away ahead of time, each season brings something new."
For Mango, this translates to a warm palette, a sun-soaked setting, and eye-catching layering. There's an equestrian aesthetic to the brand's seasonal campaign, which is inspired by the concept of progressive thinking, sharing moments, and shaping the future; models tumble through the long countryside grass in collared shirts and tall boots. There's a touch of storybook romance to the draped, breezy clothing, as well. "My favorite look that I wore was a long, blue dress with a neck scarf and some boots. The dress had a beautiful print," Longendyke adds.
Rethinking the brand's place in your shopping repertoire also seems to be one of the collection's orders. Following Mango's previously established (and more luxe) leather category and the creation of Sofia Sanchez de Betak's Met Gala gown earlier this year, the brand is debuting pieces that'll last in your closet far beyond one fashion season — such as $499.99 leather cowboy boots and a $899.99 sheepskin leather jacket.
And yes, the collection's vibe occasionally leans more western than dressage. Kaya Wilkins, the musician behind the project Okay Kaya, also is featured by Mango — and notes that the brand's take on cowboy boots is her favorite personal look from the campaign. "I love the way they add a little edge to the country feeling of a classic cowboy boot and aren't as traditional," Wilkins explains.
That said, the familiarity of Mango's newest collection will also be appealing to the wide online market it's picked up over the years. After all, who wouldn't want to jump into the campaign and pull on one of the brand's soft-looking, oversized knits the moment the weather begins to cool down? And for Wilkins, the warm layer is a must-have each fall. "I always wear a sweater that my mom knitted for me — it's so cozy and perfectly my style," she says. "This year she's knitting me a dress which I know I'll wear every day." (Those without a penchant for knitting can always pick up Mango's new cable-knit wool sweater for $129.99 instead.)
But as far as the campaign itself goes, Longendyke — who has walked the runway for everyone from Saint Laurent to Marc Jacobs — wanted to create a mood. "I think as a model you should give off a certain feeling, while also making the clothes look believable. Editorial might have a more specific mood/direction but shows also have a vibe you can work with," Longendyke says. "In the end, both are a performance so they have a similar approach."
"I love the collaborative aspect of my Mango campaign and the vibe from the countryside," Wilkins adds. "This campaign felt different because even though it was so public, it still felt very personal to me — similar to how it feels to be recording in my own space."