Meet The Stockholm-Based Beauty Brand Perfecting Multipurpose Pigments
Courtesy of Manasi 7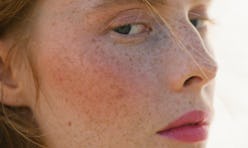 "Slow and steady" is not the current raison d'être of the beauty industry. However, it does describe the pace of Manasi 7 All Over Colour releases — and the luxury Swedish beauty brand itself. Manasi 7's latest launch, a wintry burgundy pigment called "Kuranberi", debuted on Dec. 1; a full month after its last release (a champagne highlighter named "Elysian") and close to two-and-a-half months after the last most recent All Over Colour shade, "Bisque", dropped Sept. 13. Yes, that's two new shades, in close to two months.
On its website, Manasi 7 dives into what that seven in its name means, lighting upon operating its "small-scale production at a sustainable pace to minimize water consumption, environmental impact, and waste." For the brand, the 7 is noted as seven principals: slow, select, simple, and so on. These highlight how Manasi 7 is not just purposefully decelerated for sustainability's sake, too; its line is curated, with each new product or shade acting as another chapter in a winding, thoughtful story.
For "Kuranberi" — cranberry, in Japanese — it's a sultry addition. The All Over Colour pigment can be used on your lids, lips, and cheeks; basically, anywhere you want a splash of cool-toned, deep red. The shea butter and beeswax formula spreads easily with just a touch of your fingertips, reacting to the warmth of your skin, and can be blended or built up in equal measure.
In so many words, Manasi 7's All Over Colour is easy. You can pick a jar up for €45 — roughly $50 — on Manasi7.com; you can also find other shades of the product on goop and The Dreslyn's websites. Both retailers also feature a snapshot of Manasi 7's product offering, including its equally versatile Strobelighter highlighter or bronze-meets-highlight Bronzelighter. As you may be able to guess, Manasi 7's creamy, balm-like pigments can be used seamlessly together, allowing you to fine-tune your look.
Still, though, no one could blame you if you can't help but grab the new "Kuranberi" for yourself. "I wanted to create the perfect shade that is suitable for all skin tones. This is a true statement colour associated with power and ambition," notes a quote from Manasi 7's Founder, Susanne Manasi, on the brand's Instagram page.
And chances are high you agree. Ahead, Manasi 7's newest All Over Colour shade, available on Manasi7.com as of Dec. 1.