MALIN+GOETZ's Newest Skincare Launch Doubles As Hair Care (& *So* Much More)
Courtesy of MALIN+GOETZ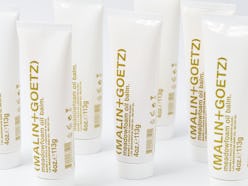 It's easy to accidentally stock your entire medicine cabinet with MALIN+GOETZ. Cult-status candles aside, the popular brand's skin care, hair care, and fragrances are virtually an entire beauty routine, sans makeup. This may be the reason why MALIN+GOETZ's new Meadowfoam Oil Balm already has a leg up on the competition: When it came to creating a product that truly could be a multitasker — and act as a bridge between so many categories — MALIN+GOETZ was ready for the challenge.
Because the new Meadowfoam Oil Balm, which arrived online Jan. 6, sincerely deserves the title of "multifunctional." As its name implies, the $48 balm is made from 17 oils and butters — with its title calling to the formula's Limnanthes Alba seed oil, otherwise known as the meadowfoam flower. This may make you think that the balm can be used on dry skin, or maybe applied as an overnight treatment; both of which are correct.
However, according to MALIN+GOETZ's website, the Meadowfoam Oil Balm can be used for so much more: It can act as a lip balm, soothe post-sun skin, remove makeup, prime for makeup, treat cuticles, care for tattoos, and melt into a massage oil, to name just a few uses. Additionally, the balm can be applied to your body, face, and hair — where it can be used to polish ends, add an extra boost of shine, or condition beards. (FYI: It can be used as aftershave, too.)
Although extensive, the Meadowfoam Oil Balm does have a main goal you can focus on: moisturizing. At its heart, MALIN+GOETZ's latest addition is here to remedy dehydrated skin, using its oil blend to both hydrate and lock in moisture (aka act as a skincare occlusive). This means you can use it alone or layer it on after your moisturizer or body lotion; the formula's beeswax, sixth on its ingredient list, will keep hydrating ingredients sealed in place on your skin.
You can find MALIN+GOETZ's new balm on the brand's website, or online at Nordstrom. Below, the new Meadowfoam Oil Balm — the multitasker your beauty routine may be missing.