How To Use MAC's New High-Shine Lip Gloss In Your Everyday Routine
Courtesy of MAC Cosmetics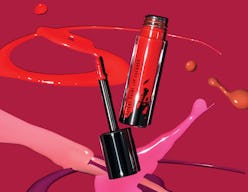 Glossy lips aren't exactly a *new* trend right now. They've been making a comeback for years, thanks in part to the ultra-dewy looks that Glossier made so ubiquitous. However, they are getting more glossy — and the proof is in MAC Cosmetics' new $22 Patent Paint Lip Lacquer, which launches Dec. 19 with 15 high-shine shades that range from deep, rich reds to peachy pink hues.
How is it different from products like Lipglass and Dazzleglass, which already bring glass-like shine to lips? Patent Paint Lip Lacquer, which is formulated with a wax-free Triple Threat gel system, goes a step further by pairing a creamy consistency with a vinyl-effect finish and intense color, to boot. But before you get intimidated by such a bold release, don't — because, according to MAC's Senior National Artist, Fatima Thomas, the trick to making it work for everyday use is simply by paring it down.
"Glossy skin has shown up on the runway for several seasons," Thomas tells TZR in an email. "It's beautifully light harnessing, which makes it eye catching and the camera loves it. It is not practical for most of us. So, I suggest taking the trend and downsizing it a bit; remember that sometimes for runway and photography artists push boundaries for the moment."
As Thomas explains, that starts with choosing the right color. "Our new Patent Paint Lip Lacquer comes in a diverse range of shades, and soft colors like Magic Mirror and Patent Pleasure are perfect for a subtle and effortless look," she says. To ensure it stays on, follow Senior National Artist Michelle Clark's advice: "Pair it with a M·A·C Lip Pencil and Prep + Prime Lip to lock in absolute perfection," reads a quote from Clark in a press release.
Of course, if you don't want to totally forgo the opportunity to go all out with the Patent Paint Lip Lacquer, take notes from Thomas on how to use it to create a festive holiday look. "For me, what keeps makeup interesting is the coming up with custom combos that yield something unique and exciting," she says. "I like doing and ombre with a red Patent Paint Lip Lacquer in Latex Love over an eggplant-coloured lipstick like Smoked Purple."
Add some (more) shine to your routine on Dec. 19 by shopping MAC's new Patent Paint Lip Lacquer in MAC store locations and on MACCosmetics.com.