Here's Every Deal You Should Know From MAC Cosmetics' Black Friday Sale
ImaxTree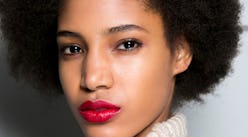 If you've been waiting impatiently for the details of MAC Cosmetics' Black Friday sale to drop, prepare yourself: They're officially here, and it's a long list of deals. Even better — it's already started, and it's kicking off with a discount that's about to make serious MAC fans *very* happy.
Starting Nov. 27 and running until Dec. 3, all MAC Lovers (aka members of MAC's loyalty program) will get 25 percent off their purchase in stores and on MAC's website (excluding VIVA GLAM). But again, there are a lot more deals to get excited about than just that.
From Nov. 28 through Dec. 30, all lipsticks from the makeup brand will be $15 (though that does exclude VIVA GLAM, Love Me Lipstick, and Special collections). That may not seem like a *huge* deal, but considering nearly all of its lipsticks are upwards of $18, the markdown could equal huge savings if you decide to take the opportunity to stock up on cult-favorites like Ruby Woo.
As for the freebies, from Nov. 28 through Dec. 2, you'll receive a full-size bottle of Fix+ Matte in addition to a Mini MAC Fix+ Scent or 70 Lash when you spend $75 in an IRL MAC store. And when you spend $45 online between those dates, you'll get to choose one free gift: either the Dazzle Highlighter in Dazzlegold or Dazzlepink, a Mini MAC Fix+ Scent in Watermelon, a Mini MAC Pigment in Rose, or 70 Lash.
And no, it doesn't end there (seriously). Though not a discount, the brand will be offering a Cyber Monday exclusive on Dec. 2 online that includes two full-size Powder Kiss Lipsticks (in shades "Mull It Over" and "Burning Love"), a Prep + Prime Lip, and a limited-edition drawstring pouch to let you stylishly store all your new goodies.
If you're overwhelmed reading all that, sorry — because the list of holiday surprises goes on. On Nov. 30, MAC will introduce Black Weekend Holiday kits, which are all under $30 and will be available online and in stores.
For a brand known for giving out free lipsticks and hosting big holiday sales, it's no surprise that this year's is equally massive. However, though this event seems to be pretty drawn out, the individual deals actually aren't all that long. Which means you shouldn't wait to get started on your shopping — they'll be over before you know it.