L'Occitane Put A Twist On One Of Its Classic Scents For Summer & You'll Want To Stock Up ASAP
L'Occitane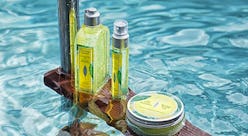 There are a few different scents you likely associate with summer: Salty sea air, suntan lotion on warm, tanned skin, and sweet, freshly picked fruits to name a few. All these aromas have the ability to refresh and excite anyone who's grown weary waiting for the season to finally arrive — or are already wilting in the intense summer heat. And if you're looking for more ways to work the invigorating fragrances into your routine, you'll want to stock up on L'Occitane's Verbena Collection, which just so happened to get a very seasonally-appropriate update for the summer.
When the summer temperatures soar, sometimes a refresher is much needed — especially in your beauty and skin care routine. It turns out, the Provencal-inspired beauty and lifestyle brand L'Occitane agrees, because it just revamped its vibrant Verbena Collection with even more invigorating citrus appeal and a very limited-edition tropical packaging and design. With six products to re-up your routine every step of the way, you won't need to look anywhere else to get your fix of summer scents.
The updated range, available beginning June 17 in its tropical-inspired citrus and greenery packaging for a limited time only at L'Occitane's site and stores, includes a total of six different body care products that are all scented with the lemony-fresh aroma of verbena and citrus fruits. But it's not just about the very summery design and scent — the new collection also features the products you'll want within reach to keep hydrated and cool all season.
Case in point, the newly released Citrus Verbena Refreshing Water Gel. The quick absorbing gel-texture body moisturizer, $39, feels cool and refreshing the instant it touches your body, and soaks into your skin for deep, speedy hydration. It's whipped up into a micro-bubble texture that releases the sweet, delicate fragrance as you massage the gel into skin for an invigorating, uplifting effect. Slick it onto skin post-shower or after a long day in the sun.
Carry the citrusy scent into the rest of your routine by snagging the collection's Citrus Verbena Refreshing Shower Gel, $20, which has scent-filled micro-beads that massage your body and release the vibrant verbena aroma as you wash up — it's a surefire way to wake up during your morning shower so you start the day off right.
Tote the revitalizing fragrance with you wherever you go by picking up a bottle of the new Citrus Verbena Hair & Body Invigorating Mist, $19. Spritz it onto skin or hair whenever you need a refresher (like mid-afternoon in your office), you'll suddenly feel as if you've teleported to Provence thanks to the sweet scent. And drop a tube of the Verbena Light Hand Cream, $12, into your bag for the ideal amount of hydration and fragrance for summer.
Keep scrolling to stock up on the entire limited-edition collection from L'Occitane, below. That way, even if you're not planning a trip to Southern France this summer, your beauty shelf will say otherwise.