LNA's First-Ever Online Warehouse Sale Is Here & It's Full Of Cool (& Affordable) Basics
LNA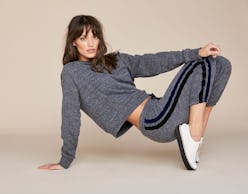 There are some brands that have just mastered the art of the L.A. cool-girl look. LNA is one of those. And since California natives Lauren Alexander and April Leight launched the brand in 2007, the label has been churning out the kind of basics that you can throw on and look like laidback style comes as naturally to you as it does to the residents of the sunny West Coast. The brand does it without any high prices, too, which makes the clothing that much more fun to shop. So when it announced that LNA's first-ever online warehouse sale was starting on March 13, it was clear that this was an event that shouldn't be missed.
LNA has a lot to choose from, so if you thought this was going to be a sale you could breeze through, you're in for a surprise. However, if you've ever laid eyes on any of LNA's pieces, you know the brand has easy basics down pat, making those the best place to start.
The Drapey Modal Logan Tee is one of many $22 finds that's any easy add to cart — it's simple, goes with everything, and is wildly affordable. And since it's still a little chilly outside in many parts of the country, snag this $22 Devon Thermal while you're at it; the shirt comes in black and gray, and is the perfect piece to layer under your clothing until the temperatures finally start to rise.
It's not just chill weekend wear that LNA does well, though; the brand clearly understands the importance of a good night-out top, and the sale is stocked with solid options (many of which are selling out fast). Snag the black Beacon Top for $22 while it's still in stock for a comfortable-yet-elegant piece to throw on with jeans and heels for date night. And for something even more fun, grab the One-Shoulder Tie Bodysuit, also $22, to wear with a skirt and your sparkliest shoes.
Fans are obviously excited about this sale — there are several pieces already marked sold out and it only just started. And with more than 200 pieces, all discounted to $50 and under, who can blame them? This is one you'd be sad to miss out on. So keep scrolling to shop some of TZR's picks from the sale, and head over to the site to find even more deals before they're all gone.
Shop The Sale