LIVELY's New Lounge Line Will Blissfully Replace Your Old "Around The House" Clothes
Courtesy of LIVELY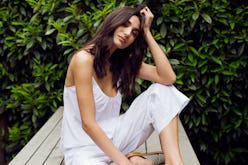 LIVELY has been killing the comfort game since it launched two and a half years ago. The brand's initial line was "Leisurée" (the term LIVELY coined for its line of comfortable bras and undies), and it's expanded into swim, activewear, and beauty, all with the intent of making the items you wear every day perfectly Instagram-worthy, without being stuffy or uncomfortable. Now, the brand's taking things one step further and is launching LIVELY Lounge on Sept. 6.
"Our community kept asking us, 'When is LIVELY going to give us lounge? We want to wear this brand 24/7!'" LIVELY founder and CEO Michelle Cordeiro Grant tells TZR. "Our girls talked about how they love sleeping in their LIVELY All-Day Bralette and undies, so the conversation progressed from there!"
Taking the LIVELY community's feedback into account is clearly a big part of how the brand comes up with its products, and that holds especially true for the new line of loungewear. Not only did the brand come up with the idea by listening to questions from its customers, it also took what LIVELY shoppers already loved about the brand and used that to create the final product.
"For Lounge, we pulled in elements of their favorite parts, like our 'softest ever fabric' (voted by our community) which we used in the All-Day Tank and Jogger," says Grant on the inspiration behind the line and its fabric.
Though this collection is the first time LIVELY's dipped into lounge, the line is reminiscent of other lines from the brand in that it's an affordable, tightly edited mixture of pieces that pair together. Along with the All-Day Tank and Jogger, the line includes the Lounge Pant and Cami in subdued hues like navy, light pink, and white — all of which you can purchase for $45 each. In fact, the Kimono, which runs for $65, is the only product in the collection you can buy in a pattern, and even that is a subtle palm print that's easily mixed and matched with the other colors (I personally love it paired with the navy joggers for an ultra chill look).
The comfort of this line is another feature that's (obviously) not to be overlooked. I wear the Lounge Pant in white and the Lounge Cami in pink, and both are the lightest, breeziest items I own. The super breathable cotton is a serious game-changer when I'm laying around in my unbearably hot apartment during the summer, and both pieces layered well and looked very lounge-chic when I styled them with a huge sweater over top in preparation for fall.
Though there are only five options to choose from in this new line (to start), Grant says there are definitely more on the horizon. "We absolutely plan to expand this line — we have thousands of women on the waitlist for this initial moment!" If this first foray into lounge is any indication, there's a lot to look forward to.