Lily Collins Keeps This Sleek Jacket On Repeat
John Salangsang/BFA/Shutterstock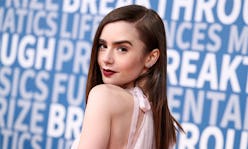 If you haven't noticed, Lily Collins has been re-wearing the same Levi's jacket for nearly four years now. The actor just sported her favorite layer again over the coziest off-duty combo in Los Angeles on Tues. The countless times she's worn this warm winter staple is proof that Lily Collins' green jacket goes with everything but an evening gown.
The To The Bone actor celebrated her longtime friend Johnny Harper's birthday in Beverly Hills, but she kept the outing casual in low-key leggings and a basic cotton zip-up hoodie. Temperatures in Southern California are dropping below the usual 70 degrees lately, calling for the Brit to break out her favorite jacket for the first time this year.
Collins' prized jumper is a slouchy utility-style jacket by Levi's. The military-green field jacket has a wide collar, cargo pockets, and a contrast beige drawstring waist. The lightweight layer costs less than $50 and the 29-year-old is clearly obsessed with it, although it's sold out by now — and by no surprise, considering she's been sporting it for years.
The actor first debuted her Levi's jacket in Aug. 2015, when she wore it to the airport with light-wash destroyed denim, a t-shirt, and cozy tennis shoes. She wore it again in 2016, this time over a slightly more polished jeans-and-t-shirt combo, during a casual visit to her mother's antique store in West Hollywood.
These days, Collins is all about the athleisure look, though. She sported her favorite jacket over a gym-ready sports bra and mesh-paneled leggings back when she was rocking fiery red hair for her role in Okja. Then, she wore it several times in 2017 with cozy leggings and t-shirts, much like her most recent hoodie-clad look.
Collins has worn this wardrobe staple upwards of 10 times over the past few years and her ever-changing style shows just how versatile an olive-green jacket can be. She's paired it with everything from dark skinnies and leather ankle boots to multicolored tennis shoes and workout-ready bras — proof that the neutral piece can be worn with almost anything.
If your winter wardrobe could use a wear-with-everything jacket like Collins', shop The Zoe Report's favorite utility jackets, ahead.
Shop Green Jackets