Why Lily Aldridge Parfums' Newest Fragrance Is Just One Step In Aldridge's Journey
Lily Aldridge Parfums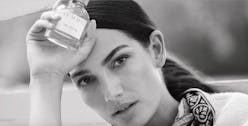 Lily Aldridge isn't a one-perfume-fits-all type of person. "I know some people are like, I'm wearing this [perfume] for the rest of my life, and that's awesome," the model and founder of Lily Aldridge Parfums tells me in an interview at a pop-up in Thakoon's NYC store for Lily Aldridge Parfums' newest scent, Summit. "But I've always been kind of like, when I go to the beach I want something lighter; when I go to a red carpet, I want something sexier — you know?"
Thus, the warm, rustic new $50 fragrance was born. "Haven was really light and fresh and floral, and I wanted the second one to be the polar opposite to make it impactful," Aldridge says of the brand's first scent. "So [Summit] is leather, tobacco, cardamom; it's really deep and rich, and I feel like it's just a cozy scent." In other words, it's everything you'd expect of a winter perfume, and something you could easily imagine wearing bundled up in a lodge while sitting by a fire.
Which is fitting, because the scent is based on a similar scenario, according to Aldridge. "My journey starts at my home, which was in Nashville, and then Summit is based on my time at Blackberry Farm, which is in Tennessee in the Smoky Mountains, and it's just a place that me and my family go to all the time," she tells me when asked if living in the South influenced the creation of her line.
Creating the right scent for every occasion wasn't the only thing that was important to Aldridge when she began the brand, though. Much of the packaging was made with sustainability in mind, from the wood cap (five trees are planted for every tree used for the caps) to the shipper (it's made from recycled paper). And the list goes on.
"Even before I knew what perfume I wanted, I knew I wanted to create something that was minimal waste and had as little impact as we could to the environment," she explains. But Aldridge still recognizes that there's more that can be done. "You know, my brand is still so new and there's so much more as this process is continuing. I'm like 'Oh, I wish I'd done that,' and 'Oh, why didn't I think of that.' But that's just starting a business. So I want to continue to grow and evolve and do more."
But that's not the only area Aldridge is planning to grow and evolve her brand. The founder already has another two scents on the horizon ("The journey continues," she answered when pressed for details on the new fragrances), and even hinted to Vogue in September that this is just the first step in a '"'huge' beauty empire."
"I would love a beauty empire!" she tells me when asked of her plans. "Why not, you know? Beauty's such a fun space, and if people enjoy it and I can create it, I would love to." But for right now, she's focused on perfecting her current products and brand. "I think it's one step at a time. I think to create an empire you need to make sure you have one quality product at a time, and I'm starting fragrance and I'll work my way from there."