This New Swimwear Brand Designed The Best Fitting Swimsuit I've Ever Tested
Courtesy Left On Friday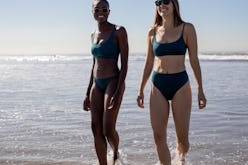 Swimsuits are notoriously hard to shop for, and if we're being honest, I've always dreaded the whole process. Trying to find the perfect fit without compromising style I'm disappointed to say that most of my finds have fallen short — well, until now. Certainly I'm not alone in this struggle, so I'm thrilled to share that I finally found a suit that checks all of my boxes, and it's from the new swimsuit brand Left On Friday.
Two former Lululemon executives, Laura Low Ah Kee and Shannon Savage, dreamed up the idea for a new premium active swimwear brand after struggling to find a style they liked. "The idea for Left on Friday hatched when we realized there weren't high-quality active suits that actually look good on," explains Low Ah Kee. "We knew we could change that; we're obsessed with fit and have a whole guide devoted to it, and every suit was created to solve some problem women have with swimsuits: loose straps, boob issues, bum coverage..."
Left On Friday quietly launched in May of 2018 to friends and family in Canada, and with just a year under its belt, is now making waves beyond its small circle. On May 1, the brand debuted in the United States with a new drop: two cult favorite styles — its scoop front, medium coverage Pool Days top, and the sporty high waisted Hi Tide bottom — combined to create Party Wave, the brand's first printed collection. "This color-block style is the first of many we'll be playing around with over the coming months," says Low Ah Kee. They're designed to mix and match with other Left On Friday styles and colors." To start, the brand is kicking off with two styles: a combination of red and hot pink, along with a black and mauve pairing. Each garment is designed in Vancouver and crafted in California using Italian-milled fabric made of nylon, polyester, and spandex, and the separates are sold for $85 each.
"Our newest style, Party Wave, embodies the true spirit of surfing, that high you get when you first catch a wave," Low Ah Kee tells TZR. "A party wave usually begins with two surfers and could lead to half a dozen strangers on one big crowded break. It's the best kind of party and what we live for at Left On Friday." The female founders built the brand on the love they have for an active lifestyle shared among others, and their intention for their customers to feel the same thrill.
When I first learned about the brand, it was this unique name that caught my eye. Low Ah Kee explains, "Left On Friday is what we call that carefree anticipation when you're done with a grueling week, you've got your suit on under your clothes, your board strapped onto your car, and plans to meet up with friends in the surf. We want our suits to give you that intangible feeling — that whatever you're up to today, you feel great, and are ready to jump in."
But, beyond what it says on the tag, when I tried on the suit, I felt a sense of empowerment, inspired by both the message and how I felt in when I put it on. I can attest to fact that the suit is unlike anything I've experienced before in swimwear. It fit me like a glove. I tried the two piece in the black and mauve combination and one of their signature one-pieces, each hugging my body (without feeling too snug) and moving comfortably with me, not riding up or bunching in ways that many previous suits had. I could enjoy my time at the beach or pool without feeling self conscious about what the suit might do.
Ahead, find seven styles, including the new Party Waves pieces, to *hopefully* make you fall in love with the line as much as I have.