LAWLESS Beauty's First Bullet Lipstick Launch Has 8 Shades You Can Wear Every Day
LAWLESS/Instagram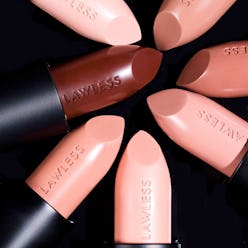 In theory, maximalist makeup is wonderful. But in practice, it's often much less wearable on a daily basis. The truth is, it's all about effortless, wearable makeup most days (who has time for more than a five-minute face, right?) — and an essential part of the equation is an easy, always-complementary lipstick shade you can reach for anytime, anywhere. And if you've discovered your arsenal is lacking in that area you're in luck, because LAWLESS Beauty's new lipstick collection just dropped with eight shades you'll wear again and again.
Though the new launch isn't the beauty brand's inaugural lip product (it's also got a liquid lipstick formula and a buttery, high-shine lip gloss), it is still a first for LAWLESS in terms of formula. It's the non-toxic range's first take on a bullet lipstick that's free from known carcinogens, endocrine disruptors, lead, silicones, synthetic fragrances, and more, in keeping with LAWLESS' "Clean AF" philosophy. With all those unfavorable additives removed, the result is a lipstick that's just about as "clean" as they come, and one that's incredibly creamy and pigmented to boot.
The Satin Luxe Classic Cream Lipstick range dropped on LAWLESS' site and at Sephora on Jan. 14, complete with eight total shades to choose from. And all of them are notably timeless (and endlessly wearable) takes on nude.
Each lipstick, $28, features a satin finish and creamy, conditioning feel, thanks to vitamin E, jojoba and olive fruit oil, and waxes derived from plants like candelilla and rice bran — and they're designed to deliver fully-saturated color coverage in as little as one swipe. Did that just describe your ideal lipstick? Same.
The shade selection ranges from the lightest hue, a pale pinky-beige nude called "Platinum" to the deepest color, a cocoa brown called "Saddle", with six adaptable nudes in between that feature warm, neutral, and cool undertones to fit most any complexion (light peach-nude "Annie" is no doubt named for LAWLESS founder, Annie Lawless). Pro tip: Pick a color slightly deeper or lighter than your skin tone for maximum definition, and use a liner that's a couple shades darker than the lipstick to fake a fuller, more contoured pout. And don't forget to exfoliate lips to ensure a smooth-as-butter application.
On the hunt for a new ride-or-die lipstick to take you through your days? Look no further than LAWLESS' new range, below.