LANEIGE's New 2-In-1 Toner Is An Effortless Way To Add Moisture To Your Skincare Routine
Sephora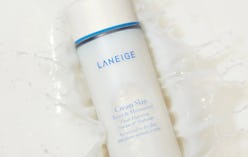 Having dry skin comes with its own unique set of skincare guidelines, and — as you probably know — stocking up on the best moisturizers is one of them. It can sometimes feel like your entire routine is dedicated to just that one step; and any products that double as moisturizers probably get brownie points in your book. It's not often that a skincare product like LANEIGE's new Cream Skin Toner & Moisturizer comes around, though. Unveiled July 2 via the brand's official Instagram account, the new formula doesn't just add a small boost of hydration while it tones: You may be able to swap out your regular moisturizer for it entirely.
OK, this may all sound a bit too good to be true — especially now that it's majorly hot outside and applying traditional, thick moisturizers probably is the last thing you want to do. However, according to its fans, the $33 product is definitely worth a buy; Cream Skin has already picked up more than 200 perfect reviews at Sephora in less than a week. (So yes, it looks like LANEIGE has yet another cult favorite on its hands.)
If you're well-versed in skin care — or just have skin that soaks up any moisturizer you put on it — you may recognize Cream Skin as a hydrating toner, a lesser-known, 2-in-1 product that's been on the market for years. However, you may be confused about how one formula can tone and moisturize at the same time even if your skincare collection is stocked to the brim.
LANEIGE broke it down best in an Instagram post, noting that "Cream Skin is a whole bottle of cream immersed in a toner." Which means it'll give you the same perks as a traditional cream moisturizer — without all the extra weight. Sephora's product description adds that Cream Skin's texture is closer to a toner than a moisturizer, too; you'll even have to pat in the watery product to help it absorb. The star ingredient — white leaf tea water — is multipurpose, as well: The amino acid-packed extract helps restore and moisturize your skin's natural barrier.
Can't wait to simplify your own skincare routine? Shop LANEIGE's new Cream Skin Toner & Moisturizer on the brand's website or at Sephora.