Lancôme's Newest Fragrance Is Here — & It's As Instagram-Worthy As It Is Sweet
Courtesy of Lancôme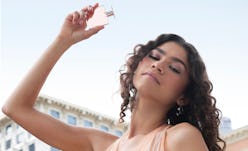 When tasking itself to create a perfume for a new, rule-breaking generation of women, Lancôme took on quite the challenge. And it seems like the luxury beauty brand had to abandon its old rulebook to create Lancôme's new Idôle Eau de Parfum, which debuted online Aug. 22 and retails at $96 per 1.7-ounce bottle. For one, the perfume itself is unique — it's described as a clean, rose-tinted chypre that's both feminine and fresh. Then, there's the bottle: Created by the architect and industrial designer Chafik Gasmi, Idôle is packaged in one of the slimmest perfume bottles in the world.
And the dazzling bottle is expertly shown off in the new Idôle Eau de Parfum campaign starring Zendaya, a fairy tale-turned-battle cry that closes after a shot of the impossibly thin perfume lit up by the sun. "Lancôme is a timeless brand, eternally chic," Zendaya, Lancôme Idôle ambassadress, actress, and singer, tells The Zoe Report exclusively over email. "And when I say that, I'm talking about their campaigns but also their products. There's a level of sophistication and classiness that, as I've been coming into my womanhood, felt right in step. I wanted to partner with a brand that felt like a grown-up me."
Beyond the message of empowerment brought to the table by Zendaya, the perfume itself tells the story of three women: Shyamala Maisondieu, Adriana Medina, and Nadège Le Garlantezec, the three female perfumers who created the one-of-a-kind fragrance. "Idôle breaks the widespread gourmet addiction, by offering a new sensation: the first clean floral chypre," reads a quote by Maisondieu in the product description on Lancôme's website. ("It's a soul-connecting fragrance which leads to believe she can conquer anything she desires," Medina added.)
Not quite hip to perfume lingo like "gourmet" or "chypre"? It's surprisingly easy to understand. Gourmet or "gourmand" perfumes are dessert-like delicacies — think perfumes that remind you of a box of expensive, gourmet chocolates. The Perfume Society Co-Founder, Josephine Fairley, wrote for The Telegraph that chypre perfumes are typically made of oakmoss, patchouli, bergamot (a bitter citrus), and labdanum (a uniquely scented resin and essential oil traditionally used in perfumes).
Idôle isn't simply a chypre scent though. Layered at its top are notes of juicy pear and pink peppercorn. Then, a feminine jasmine note combines with a Turkish rose petal essence and a centifolia rose from France. Finally, at the bottom, white musk, vanilla, patchouli, and cedarwood anchor the perfume into something elegant, yet wearable.
And Idôle's bottle is just as unique as the perfume it houses. Created to lay perfectly flat, the thin, straight bottle will take up space differently on your vanity, dominating horizontally instead of vertically. The intriguing design also makes the 15-millimeter bottle the ideal Instagram companion — allowing influencers and fans alike to take perfectly arranged flat-lay photos starring Idôle.
To shop the Idôle Eau de Parfum, simply visit Lancôme's website or select retailers. Or, continue scrolling down; the new Idôle Eau de Parfum is below.