Here's Everything You Need To Know About The 2019 Golden Globes
Rob Latour/Shutterstock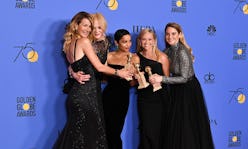 The beginning of a new year means only one thing for the entertainment industry: awards season is officially here. Sun. will be the first of many ceremonies to come, so get your cable box cued up (or your internet browser, rather). Here's how to watch the 2019 Golden Globes on Jan. 6.
If you watched last year's show, you certainly remember Oprah Winfrey's fiery speech, nearly every leading lady dressed in black to honor the #MeToo movement, and that face Hugh Jackman made that temporarily turned him into a GIF. This time, Sandra Oh and Andy Sandberg will team up to bring America the best in film and television from the past year.
Memorable fashion moments will be made and (probably too many) drinks will be drunk by Hollywood's finest. Ahead, everything you need to know in advance of Sun.'s show.
How To Watch
Mark your calendar for Jan. 6 at 3 p.m. PT/6 p.m. ET if you want to catch the red-carpet coverage on E! News, who will be leading the live televised pre-show. You can also see the nominees make their arrivals via The Golden Globes Facebook page, where a two-hour live stream will take place.
Tune into the ceremony itself at 5 p.m. PT/8 p.m. ET on NBC. Don't have cable? No problem. NBC is offered on Hulu's Live TV Plan, Sling TV, YouTube TV, or you can catch it online on NBC's live streaming site (or smartphone app) instead.
The Venue
The 76th Golden Globes will be held at its usual venue, The Beverly Hilton in Beverly Hills. The ballroom of this iconic hotel seats only about 1,400 people, hence why the Golden Globes is one of the smallest (and therefore most elite) award shows.
The Hosts
Whereas talk-show host Seth Meyers emceed the 2018 ceremony, this year's stage belongs to Killing Eve's Sandra Oh and funny guy Andy Sandberg — a match made in heaven. Oh told The Hollywood Reporter that viewers can expect a "crazy-pants" (and Trump-free) show.
The Nominees
People are predicting plenty of stage time for A Star Is Born, Green Book, and The Favourite (all nominated for five awards apiece), but the movie with the most nominations is Vice, the biographical comedy-drama about Dick Cheney, with six. Television program nominees include Homecoming, The Handmaid's Tale, and Oh's own Killing Eve.
And you can start casting your bets on the best dressed, too. Will it be Lady Gaga, Nicole Kidman, Claire Foy, Elisabeth Moss, or Emily Blunt?