Lady Gaga's Oscars Necklace Was Once Worn By Audrey Hepburn (& It's Worth SO Much)
Frazer Harrison/Getty Images Entertainment/Getty Images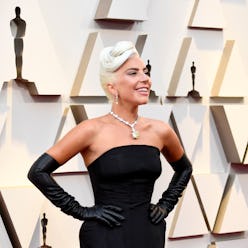 Lady Gaga is absolutely on fire this season. From her couture Valentino gown and blue hair at the Golden Globes to her matching red lips and nails at the SAG Awards, it seems she can really do no wrong when it comes to her red carpet appearances. And, true to form, her Oscars 2019 look was no exception. This year, Lady Gaga wore a Tiffany & Co. diamond necklace, and according to W Magazine, there's a backstory to it (and a price tag on it) that will make your jaw drop.
Gaga's Alexander McQueen dress was certainly a highlight of Sun. evening's red carpet, along with her black leather gloves and sleek updo. But one look at her outfit is proof that there was a true standout of the look: the enormous necklace that sat right above her strapless gown. While yes, it was obviously a stunner, the most surprising part of the jewelry piece is actually its history.
W Magazine reports that the diamond is 128.54 carats and "was last worn by Audrey Hepburn in 1962 for publicity posters for Breakfast At Tiffany's." According to the publication, it's only been worn twice before, too, with Lady Gaga as the third lucky person to don the piece. The publication goes on to write that an advertisement in the New York Times listed the diamond for $5 million in 1972 — which equates to roughly $30 million today.
Gaga may be known for having a flair for the dramatic, but her 2019 Oscars look takes the cake.
According to People.com, the diamond was found more than 140 years ago by Charles Tiffany, the founder of Tiffany & Co. And though it's been placed in different necklace styles previously, the diamond was reset into a style with more than 100 carats of white diamonds (which no doubt makes the entire piece even more). People.com also wrote that Gaga completed her jewelry look with Tiffany & Co. earrings, which similarly featured yellow and white diamonds.
Gaga's had an exciting awards show season to say the least. She took home wins at the Golden Globes and has garnered a slew of nominations at other shows, including one for Best Actress and Best Original Song at the Oscars. And for those who impatiently waited to see what incredible look she'd show up in on Sun., it's safe to say the singer did not disappoint — Gaga undoubtedly took home the best jewelry award for the night.