You Need To See What Lady Gaga's Golden Globes Dress Looked Like On The Runway
Handout/Getty Images Entertainment/Getty Images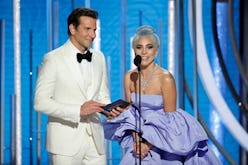 Lady Gaga was the woman of the hour at Sun.'s Golden Globe Awards. Not only was her film nominated for five awards (including one for the hit song she sang with co-star Bradley Cooper), but her look was one that viewers will be talking about for days — maybe even years — to come. Although it debuted on the runway in July, Lady Gaga's 2019 Golden Globes dress looked so different that it could almost be called custom.
The A Star Is Born actor appeared on the red carpet in a striking Cinderella-style Valentino Couture gown and blue hair to match. The dress featured puffy, off-the-shoulder sleeves and a train that seemed to extend a mile down the red carpet. As for the color, it appears anywhere from baby blue to periwinkle depending on the lighting (but The New York Times described it as "lunar blue"). Either way, it's certifiably gorgeous.
The gown initially debuted on the Fall 2018 runway in July, except it looked much different on the model. Not only was the original number a deeper (and easier-to-describe) sky blue, but it also had a ribbed texture on the torso and a dropped, pleated waist. Gaga's, of course, had a longer train as well.
Perhaps the actor toned the gown down to look more like the dress Judy Garland wore in her film of the same name from 1954.
Symbolically, Garland won a Golden Globe for Best Actress for that performance. In the original A Star Is Born, Garland layered a puffy-shouldered shawl over her gown of the same color, which likely provided the inspiration for Gaga's retro sleeves.
While the "Shallow" singer didn't wear Garland's elbow-length purple gloves with her look, she did, however, accessorize with $5 million worth of Tiffany & Co. bling (as if the gown even needed accessories).
The nominee's jewelry included a colossal diamond-drop necklace, cluster earrings, and three stacked bracelets on her wrist.
It's no surprise that Gaga went with Valentino for her Golden Globes look, considering she wore the designer (remember that outrageous pink feathery gown?) to the premiere of the film for which she was nominated. And while she certainly made some adjustments to the original number, it was all for a good — and sentimental — cause.