Kristin Ess' New Haircare Collection Is Chic, Affordable, & Fragrance Free
Courtesy of Kristin Ess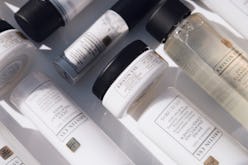 Kristin Ess excels at fragrances. The popular haircare brand — which stocks Target's shelves with luxe, celebrity hairstylist-approved products — is known for them, going so far as to release an actual perfume mimicking the scent of its line. So, it should come as no surprise that fans may not have seen Kristin Ess' new Fragrance Free Collection coming, launched online and in-store at Target on Dec. 29.
Unlike its established portfolio of hair care, the new Kristin Ess collection lives up to its name: It contains no added fragrance. "For me this wasn't about creating a line around any particular timing or trend," founder and hairstylist Kristin Ess tells The Zoe Report over email. "But I created these seven products for the many people I've conversed, on and off social media, who are so desperate to find something that's fragrance free, works really well, and looks chic."
Ess saw creating the new products as an "opportunity," with the goal to match the cult-famous quality of other Kristin Ess haircare products sans any extra scent. "If I'm being honest, this has been a problem for a long time because it's wasn't something being demanded by 'the masses.' But this group of highly sensitive (and very stylish) people often get overlooked and I'm just thrilled to take my shot at filling the void," she explains.
And yes, the brand did fill it. The seven products cover your regular haircare bases — offering the $12 Daily Cleansing Shampoo and Shine Enhancing Conditioner — while also featuring routine-completing add-ons and styling products; such as the $12 Dry Shampoo Powder or $10 Detangling Tonic spray. "Anyone who knows me or has ever listened to me talk about hair knows I would never ever launch a collection without a leave-in!" Ess says of the tonic. "I think it's the single most important thing you can do for your hair to keep it in good condition."
Moreover, each new product from the Fragrance Free Collection is vegan, safe for color- and keratin-treated hair, and formulated without silicones, sulfates, parabens, phthalates, or gluten. "There are a lot of alternatives to traditional ingredients. One thing that's incredible for producing great lather is sodium cocoyl isethionate which is a coconut-derived surfactant, aka cleansing agent," Ess adds.
To explore the new collection, find it at Target or on the retailer's website. Below, all seven new products from Kristin Ess' Fragrance Free Collection — with extra information about each one from Ess.