This Intimates Brand Just Launched Its First Line Of Comfortable (& Chic) Swimwear
Courtesy of Knix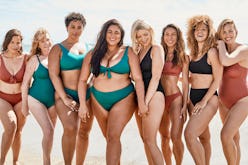 While you may not have seen it coming, Knix's new swim collection just makes sense. Since debuting in 2013, the intimates brand has revolutionized how women shop for the clothing that sits closest to their bodies; you probably first heard about Knix years ago because of a viral Kickstarter focusing on its wire-free Evolution Bra. While the campaign certainly created a buzz around the brand, the Knix line has only grown in popularity since then — the brand sells one piece every 10 seconds.
And the intimates Knix creates are cult famous. Knix's Leakproof Boyshort currently has 5 stars out of over 800 reviews. Knix's Evolution Tank — which features a built-in wireless bra — has a perfect score from over 1,600 reviews. That aforementioned Evolution Bra? Five stars. 3,310 reviews. Really, it'd be an injustice if Knix didn't marry its technical know-how with swimwear.
The brand introduced the inaugural collection on May 3 (just in time for any pre-summer vacation shopping); however, Knix stated in an Instagram post that it'd spent more than 3 years creating the colorful, comfortable swimwear. Pieces from the collection range from $45 to $95, depending on if you go with a bikini set or a one-piece. And, like other collections from the brand, the new swimsuits are size-inclusive, too: Knix's swimwear collection includes options for sizes 2 through 20, and up to a G cup. (Knix also offers sizes like S+, M+, and L+, which offer extended coverage for fuller busts.)
This isn't your average comfort-first swimwear, though. The designs are minimalist and sleek, with options for all, regardless if you like to cover up or show a little skin. Each design comes in three colorways: a warm muted pink named Coral, a bright teal called Ocean, and a classic black. While you can see some elements of a Knix suit's easy-to-wear design just by looking at it — like the thicker, adjustable shoulder straps — the swimwear also hides some of its genius; it'd be nearly impossible to tell the Peekaboo One-Piece has a supportive, built-in bra just by glancing at it.
To see all of the new pieces from the Knix Swim collection, just click on over to the brand's website. However, don't forget to keep scrolling down — a few swim styles you should shop first are listed below.