KKW Beauty's Newest Collection Is About To Drop — & It's Seriously Glam
KKW Beauty / Instagram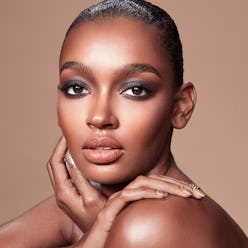 There are a lot of "glam" products and shades that launch during the holidays, but sadly, not all of them deliver that bold, sultry effect most glamour seekers are looking for. Kim Kardashian's latest collection, however, very much does. True to its name, KKW Beauty's Glitz & Glam collection is resplendent with high-shine glosses and rich, metallic eyeshadows that are pretty much destined to outshine your party looks this season.
But perhaps the most glamorous product to come from this Dec. 6 release isn't even part of the collection at all. Launching alongside it is a new limited-edition rose gold shade for the Body Collection's Perfecting Body Shimmer for $35 and Shimmer Powder For Face & Body for $27 (you can also buy both with the body brush for $90). According to the KKW Beauty Instagram, it's the "most ever blingy Body Collection products," which is saying a lot considering the existing shades aren't exactly subtle.
It's not all shimmer and shine, though. Kim was still able to sneak her love of all things matte into the collection with a $65 set of four matte lipsticks and the 90's Vogue Lip Liner for $12. And while there's no shine involved, there are still plenty of holiday vibes in these shades. Each one channels the '90s supermodel look in its own way, throwing it back to the glamour of the decade.
The collection isn't the only news KKW Beauty fans need to know this month, though. Its launch is actually part of a larger event called KKW Beauty 12 Days of Christmas, which kicked off on Dec. 3 and will be rolling out deals like 30 percent off the Mattes collection on Dec. 7 and a BOGO sale on eyeliners on Dec. 10 (among others).
No one does a holiday quite like the Kardashians, and luckily for fans, this season is no exception to Kim's typical over-the-top approach. Between this glamorous new collection and nearly two weeks of deals, there's more than enough reason to shop KKW Beauty in December — so start by scrolling to shop the new collection when it launches Dec. 6 at 12 p.m. PST, below.