The New (& Cruelty-Free) Drugstore Staple To Add To Your Skincare Shopping List
Walmart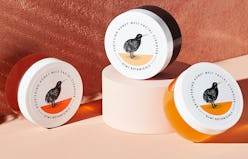 Before manuka honey caught on in the states — like way, way before — it was a New Zealand skincare essential. You've probably heard the story if you've looked into the buzzy ingredient: Harnessed from bees who pollinate native manuka plants, the soothing, antibacterial, and anti-inflammatory benefits have been embraced by skincare-savvy New Zealanders for 2,000 years. Which yes, does mean manuka honey can cost you a pretty penny — although the just-launched skincare brand Kiwi Botanicals' new Honey Melt Facial Cleansers retail for almost $10 exactly.
In fact, you can buy one of the new brand's cruelty-free cleansers — which officially dropped Oct. 22 and marked the start of its skincare line — for just $9.97, and at Walmart to boot. That incredibly affordable price doesn't mean a dip in manuka quality, either: "Kiwi Botanicals' Manuka Honey is sustainably harvested by the principle Maōri tribe of the South Island of New Zealand and is manufactured in a facility with fair work standards," the brand wrote on its website.
The only tough decision you need to make is choosing between the three available types. The Nourishing Honey Melt Facial Cleanser with Manuka Honey appears to be the brand's — pardon the pun — gold standard; it taps into manuka honey's antioxidant prowess to gently rejuvenate your skin, even as it cleanses away makeup and oil.
The Brightening Honey Melt Facial Cleanser with Manuka Honey performs similarly, but adds totarol extract into the mix — a lesser-known (yet vitamin-rich) ingredient that's slowly but surely catching on in the beauty industry. Grab this version if your face is low on glow: Kiwi Botanicals notes in its own product description that the totoral extract plays a key role in waking up dull skin.
Then there's the Purifying Honey Melt Facial Cleanser with Manuka Honey. Unlike the other two formulas, this cleanser is pitch black thanks to a dose of deep-cleaning charcoal. Think of it as the everyday version of a charcoal face mask; over time, the cleanser will reach into your skin and absorb what may be irritating your pores (like oil, grime, or other impurities).
Using the slime-like cleansers is surprisingly easy, too, regardless of which one you choose. The texture quickly changes the moment you add water into the equation: The Honey Melt Facial Cleansers transform from jiggly gels into foaming, milky washes. From there, cleansing with the silky foam is like using any other face wash.
Ready to give manuka honey (and a new skincare brand) a spot in your collection? Below, all three new Honey Melt Facial Cleansers from Kiwi Botanicals.