This Piece From Kim Kardashian's Legally Blonde Costume Defined The Early '00s
Dimitrios Kambouris/Getty Images Entertainment/Getty Images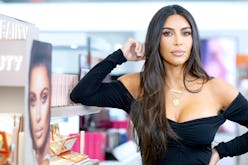 Back in 2001, there was no better accessory for your bubblegum pink Juicy Couture tracksuit in your closet than Tiffany & Co's heart-shaped necklace — and it seemed like everyone had one. Not one to miss a step, Kim Kardashian West was sure to include Elle Woods's signature Return to Tiffany's tag in her 2019 Legally Blonde costume.
The mogul's choice for Halloween seems more than fitting, as she's currently on the path to become a lawyer to fight for prison reform. And the tongue-in-cheek get-up was nothing if not precise — what with a fully produced Harvard admissions' video (mirroring the one in the film) and Reese Witherspoon's character's iconic style. But it was the subtle inclusion of Tiffany & Co.'s necklace added a nice finishing touch.
Inspired by the jewelry brand's iconic key ring from 1969, the Return To Tiffanys collection is a classic design reinvented. And since it's debut, several iterations of the house's signature style have been introduced — including everything from heart-shaped studs and charm bracelets, to dainty rings and enameled pendants. That said, it's highly likely that with the notoriety the style received from the classic film, at some point or another a version of the design was sitting at the top of your wishlist.
Like with many other pieces from the past (enter: Dior's highly-coveted saddle bag), Tiffany & Co.'s signature necklace is making its way back around, offering updated takes to align with current jewelry trends. However, if you want to stick with the classic, its sterling silver heart tag toggle necklace is still available for $600. Take this nostalgic moment to the next step by investing in the matching heart tag toggle bracelet, which rings in at $425 and offers a more subtle look.
Or maybe you already had this classic style back in the day and want to add something a bit newer into the mix. In which case, TZR has rounded up a few more options to consider — all of which include the collection's instantly-recognizable details; so you know you'll have it in your jewelry box well into the next decade.