This Is The Top-Rated Product From Khloé Kardashian's BECCA Collection
Cindy Ord/Getty Images Entertainment/Getty Images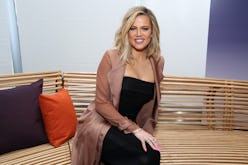 Khloé Kardashian and best friend Malika Haqq dropped a limited-edition collection with BECCA Cosmetics on Dec. 22 and its top-selling item might surprise you. The makeup line features three core products aimed to help you achieve that coveted dewy glow, but the one thing from Khloe Kardashian's BECCA Collection that people are raving about the most? The lipstick.
If you haven't already heard, the dynamic Kardashian-Haqq duo teamed up with BECCA to release a special BFF Collection last month. The TV personalities-turned-makeup designers must receive compliments on their dewy complexions constantly because the theme of the line is, of course, glow.
Included are Glow Letters baked into "X," "O," and heart shapes, as well as the $44 Glow Palette, which features a highlighter, a bronzer, and two blushes. Surprisingly, though, the lip color is getting the most attention.
The $24 lipstick comes in four shades, from a bright and spicy "Hot Tamale" by Kardashian to Haqq's pinky-neutral creation. Infused with super-hydrating hyaluronic acid and avocado and olive oils, the comfortable formula lasts up to eight hours. According to the brand, a single swipe should cover you for a full night out, so go ahead and wear that micro bag that won't fit your touchups without reserve.
The silky, paraben-free product goes on smooth and creamy for ultimate comfort. Each tint is packed with pure color pigments that will make your shade of choice really pop. Not only will you get the full coverage you desire from this formula, but also a glossy finish that you won't have to keep applying throughout the day.
For subtle looks, opt either for Kardashian's Cupid's Kiss, a so-called "toasty neutral" with brownish undertones, or the pink-tinted Yours Truly hue that Haqq calls "the best nude ever."
And when you're in need of something a bit bolder, these longtime besties have you covered. The Brave shade is a rich red with cool undertones while the bright and fiery Hot Tamale is, well, 100 percent hot.
"When I put this on, I feel sexy and glamorous," Kardashian said of her favorite of the four. "It's my dream."
People seem to be loving the formula on Ulta, where it has already acquired 4.5 stars. You'd better see what the fuss is about by picking up one (or a couple, rather) of your own. Shop all four shades of Khloé Kardashian and Malika Haqq's BECCA Collection lipsticks, ahead.
Shop The Collection