Kendall Jenner Is Reportedly Launching A Beauty Brand — Here's What We Know
Gareth Cattermole/Getty Images Entertainment/Getty Images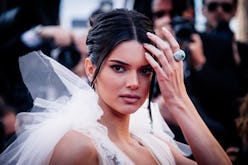 If your cosmetics supply was solely comprised of brands by the Kardashian-Jenner dynasty, you'd have a vast collection on your hands. This family is churning out new makeup faster than most of us can keep up, and there's no sign of them stopping anytime soon. Now, following in her sisters' footsteps, Kendall Jenner is launching a beauty brand, too.
Between Kylie's Lip Kits, Khloe's collab with BECCA Cosmetics, and Kim's KKW contouring sets, your makeup bag must be overflowing by now. It's about to get even more crowded in there because, according to WWD, yet another sibling has filed for a beauty patent and this time, it's the supermodel sister.
On Fri., the fashion journal revealed that Jenner filed for two trademarks — "Kendall" and "Kendall Jenner" — on May 2. Both encompass skincare, haircare, makeup, perfume, lip glosses, body creams, cleansers, and more.
It's tough to say what the 23-year-old has up her sleeve with such a broad variety of products, but whatever it is, you can expect the model's first-ever solo business venture to be good.
Of course, she does know a thing or two about the industry, and not just because she spends so much time sitting in a makeup chair (or because almost every woman in her family has a stake in the beauty world already).
Jenner is a current spokesperson for the acne brand Proactiv and the hair brand Formawell Beauty. She has also been the face of Estée Lauder's millennial-targeted collection, The Estée Edit (which has since been discontinued) and has more recently partnered with oral-care brand Moon.
It's safe to say she's been around the block enough to head her own beauty label. She's already proven her savoir-faire with the fashion line she launched with sister Kylie (which started as a collaboration with Pacsun in 2012 but has since taken on a life of its own).
Her latest project will join a mile-long list of Kardashian-Jenner products including Kylie Cosmetics, KKW Beauty, BECCA x Khloé Kardashian & Malika Haqq, and Kim and Kylie's just-announced fragrance collab.
Jenner is also the highest-paid model in the world, according to Forbes' annual list, and when you have a title like that, pretty much anything you do is guaranteed to be an instantaneous success. Not that she needs the extra boost because everything Jenner touches turns to gold anyway and this beauty collection is sure to follow suit.