Keira Knightley Found A Luxury Coat Well Worth The Investment (& She's Worn It For Years)
Jeff Spicer/Getty Images Entertainment/Getty Images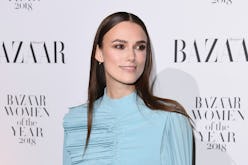 Every year, you buy a jacket in the trend du jour. Your coat closet is packed with plaid, teddy fleece, and oversized silhouettes, but you always default to that one trusty layer that's been your go-to winter staple for years. That's Keira Knightley's gray shearling coat.
It's barely been a month since the British actor sported Chanel Couture to receive her OBE at Buckingham Palace, so let's be honest: Knightley could wear just about any designer she wanted. Nonetheless, the actor stays true to her humble roots and the 10-year-old jacket she just sported in Paris is a case in point.
Her practically to the decade-old Burberry coat is charming — not because the piece is irrelevant after all these years (in fact, its proving to be pretty timeless), but because she told ELLE UK that she wears it constantly to get her money's worth.
"My mum was like, 'You cannot spend that amount of money on a coat,' and I was like, 'No you're right, I can't, I can't.' And then literally it was months, months, of thinking, 'I'm not going to do it, I'm not going to do it.' But then she said, 'Right, if you're going to buy it, you have to wear it all the time.' So I wore it every day last year and I'm going to wear it every day this year," she said.
That was nine years ago. Now, despite her access to thousands of other coats, she continues to wear the faithful sheepskin favorite she spent her hard-earned $4,000 on long ago.
The coat features a wide shearling collar and a double-breasted button-front closure. Knightley has worn it with just about everything, from suede skirts and leopard-print scarves back in the day to her most recent ribbed sweater and trapper hat ensemble.
What better to invest in than a coat you can wear for the next decade, anyway? Ahead, five timeless pieces that are worth the splurge.
Shop Investment Coats