These Basic Wardrobe Staples Are The Key To Recreating Katie Holmes' Style
Nicholas Hunt/Getty Images Entertainment/Getty Images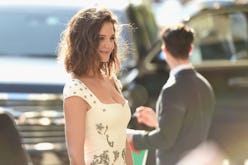 In a world of Kendall Jenners, Kaia Gerbers, and Gigi Hadids, Katie Holmes seems to really hold her own against trendsetters half her age. Her admirable aesthetic revolves around just a few reliable pieces that are surprisingly simple and easy to find. If you want a closet like Katie Holmes', you're going to need these wardrobe staples.
This Dawson's Creek actor doesn't get nearly enough credit for her chic taste in fashion. Now more than 20 years into her career, Holmes is still holding up the front row at runway shows (when she's not on mom duty, that is). She's also become a Met Gala mainstay, meaning designers can't wait dress her up in over-the-top couture.
Needless to say, the 40-year-old should be treated as an authority because this girl knows a thing or two about putting a look together each morning. And she's acquired such a stylish reputation basically without any help.
Holmes reportedly parted ways with her former stylist, Jeanne Yang, years ago, so she's been picking out clothes on her own. She's doing a pretty good job at it, too, although she admits to tapping daughter Suri for style advice now and again.
The actor has maybe one of the most underrated wardrobes in all of New York. Ahead, a few things that she keeps in it.
Plain White Tees
If there's one thing Holmes can't live without, it's a plain old white t-shirt. As simple as it sounds, she's been living in these basic tops all spring, layering them under jumpsuits, tucking them into baggy jeans, leaving them hang loosely over flowy skirts, and wearing them under her extensive collection of cozy cardigans. The possibilities are endless, but almost every outfit starts here.
Get The Look
Bohemian Skirts
The actor's new obsession is a boho-chic midi skirt. She owns them in florals, denim, plaid, you-name-it, sometimes pairing them with a pretty peasant top but more often than not wearing them with her favorite white tees and oxford shirts. She debuted at least four new flowy skirts in June and almost all of them were by Ulla Johnson.
Get The Look
Baggy Denim
The only reason she'll stray from her skirt collection is for a pair of trend-forward baggy "mom jeans." High-waisted for tucking tees and button-ups into, loose around the leg, and hitting at the ankle to show off a Gucci sneaker or some sort of chic loafer, these casual pants play a major part in Holmes' off-duty looks.
Get The Look
Ballerina Flats
For as much walking as she does around Manhattan, this actor needs comfortable shoes. One of her favorites — probably because they're super comfortable without compromising on style — is her pair of black studded Lauren flats by Chloe, dotted ballerina slippers with feminine scalloped trim.
Get The Look