These Pants Are The Key To Elevating A Plain White Tee, According To Katherine Schwarzenegger
Rich Polk/Getty Images Entertainment/Getty Images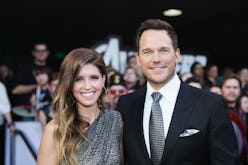 Here's a solution to your weekend style rut so you can finally stop wearing the same outfit every Saturday because people are starting to catch on. Katherine Schwarzenegger's green cargo pants can make a crop top look like high fashion. Get ready to breathe some life back into your off-duty style.
If ever you need inspiration for a brunch outfit, Kat Schwarzenegger is your girl. The blogger has truly mastered the art of weekend dressing without constantly relying on athleisure like some do. Her aesthetic is casual, yet clean, with a whole lot of Southern California flair.
Seriously, who else could make cargo pants look this chic? A boxy white crop top was the only match for them, it seems.
In the past, people have committed to the military motif by pairing camo with their cargo pants. Black leather jackets and denim tops seem to be common combinations as well. But Schwarzenegger's styling of these inherently edgy pants was surprisingly soft and summery.
Her beachy white sandals, basic tee, and white tote balanced out the utilitarian look of the bottoms so well. An Instagram Story offered a close-up of her accessories, which included two heart-shaped necklaces, one by Eden Presley Jewelry.
This newlywed is known for her enviable fashion sense, but a close look at her wardrobe will reveal that it is, in fact, full of basics. Lucky for you, it isn't too farfetched to have Schwarzenegger as a muse.
Easy, throw-on jumpsuits, plain tees, and statement pants (like those yellow ones she wore a couple weeks before with — wait for it — a white t-shirt) are pretty much the author's jam. As for those green cargo pants with the super-wide legs and longline pockets, they were a natural fit for Schwarzenegger's aesthetic.
Snag a pair for yourself to give your off-duty outfits a necessary boost. The Zoe Report's favorites, ahead.
Shop The Look